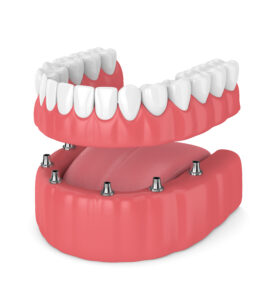 When you lose a tooth, or if you have already lost a significant number of your natural teeth, then you need treatment to avoid the complications of untreated tooth loss. We can offer that with dental implants, handling a single missing tooth or supporting a prosthetic. In today's blog, your Leawood, KS, dentist talks about the benefits of implant dentistry.
The Factors Behind Tooth Loss
Why do we lose our natural teeth? For some, this could be due to an accident or injury, or even as a result of an untreated cavity or infection. The most common cause of adult tooth loss is periodontitis, the advanced stage of gum disease. When you lose a tooth, you should contact our team right away to discuss a possible solution. If years have elapsed and you've lost most or all of your teeth, then our team can still help restore your smile to optimal function, health, and beauty with implant dentistry.
The Impact on Your Smile
Tooth loss could cause misalignment due to the gaps in your smile, as teeth begin to drift from position. The strain on your jaw joints from tooth loss could also mean the onset of TMJ disorder and bruxism (teeth grinding). You may also have trouble speaking clearly or even eating a variety of different foods. The body will also suspend the flow of calcium and phosphorus to the jawbone, which means the bone tissue breaks down to cause an aged appearance. Fortunately, we can prevent these complications or halt them with the placement of one or more dental implants.
Dental Implants
What makes a dental implant different? Instead of relying on crowns, suction, or adhesives to keep your new tooth or teeth in place, we will insert a biocompatible titanium post, one that screw-like in appearance. The post is accepted by the body as a natural root, bonding with the jaw and staying in place for years to come, far longer than traditional bridges or removable dentures. Once the placement area heals, our team will connect an abutment to the post. For an individual tooth, we complete it with a crown connected to the abutment, one that is custom-made to look natural and provide a durable chewing surface. Our team can also address more advanced cases of tooth loss, even supporting a set of fixed dentures!
Sedation
We will plan the placement process in detail with digital x-rays and intraoral camera images, so we can choose the best angles and position to insert the post or post, so your smile can support them. In the process, these posts then strengthen your jawbone. To ensure the procedure is comfortable, we not only numb the appearance area, but we can offer dental sedation. With sedation, you enter a calm and relaxed state with little to no memory of the procedure, while still remaining conscious and able to respond to the dentist as needed. Nitrous oxide is administered through a mask over the nose, and the effects wear off quickly. Oral sedation is given in a pill or liquid form and offers a deeper state of calm. IV, which is often used for more extensive treatments like multiple implant placements, offers the deepest state of calm. A trained anesthesiologist will be on hand to monitor you, and you should have a friend or family member ready to bring you home afterward.
Implant Dentures
Implant dentures involve inserting multiple posts per arch, and then adding abutments to them to connect a custom denture, one that contains a full row of new teeth. These fixed dentures never slip and don't need to be removed for cleaning or soaking, instead you care for them as you would natural teeth. They can last for decades to come with care and attention. With options like All-On-Four, we can place the implant posts and connect a denture in the same visit, so you leave with a full smile. If you have weakened jawbone structure, we could use grafting or sinus lifts to provide enough structure to support these new spots, so you can enjoy a complete smile.
If you have any questions about how we plan and implement the placement of dental implants, or if you have gaps in your smile that need attention, then please reach out to our team today to learn more. We want to help you smile with confidence for years to come, so don't delay!
Talk To Your Leawood, KS Dentist About Implant Dentistry
Our team wants to help you enjoy a complete smile with our durable and lifelike replacement options. If you want to learn more about tooth replacement, then contact Dreem Dentistry in Leawood, KS by calling 913-681-5500.