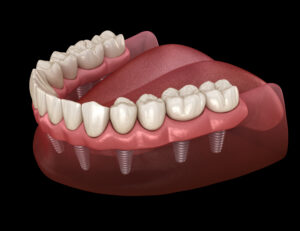 If you have suffered from major tooth loss, then you may need to seek a dental prosthetic. With a set of dentures, we can even address total tooth loss, so you can eat your favorite foods again and smile with confidence. In today's blog, your Leawood, KS, dentist talks about how we address tooth loss with our custom dentures.
The Loss of Your Teeth
How do we lose our natural teeth? For some, this could be due to untreated cavities or infections, or even an injury to your smile. In most situations, the advanced stage of gum disease, known as periodontitis, could be a factor. Losing teeth means the body stops sending doses of calcium and phosphates to the jaw, causing it to break down and changes shape with time. You could also be severely limited in what meals you can eat, and may feel embarrassed in social situations, which all impact your overall quality of life and your overall health too. Even if time has elapsed since you lost your teeth, come see us so we can choose the most appropriate replacement option.
Creating Your Custom Prosthetic
Each smile is unique and therefore, every prosthetic needs to be a custom one. We start by carefully examining your smile and seeing if you have teeth that need or be treated, either due to disease and infection or to make room for a prosthetic. We then extract them and take detailed digital images of your smile, which we use to create an impression. We employ this information in a dental lab setting to design and craft your finished product, so you obtain a custom prosthetic that fits comfortably and looks natural. This will consist of an acrylic base that looks like gum tissue, and natural looking teeth created from durable ceramic.
Removable Prosthetics
A removable denture is one that needs to be taken out for cleaning and soaking regularly. For a partial denture, these are held in place with metal clasps that connect to natural teeth. For a complete set, suction or a special adhesive keeps them in place. They need to be replaced as the jaw ridge will change shape over time due to the missing tooth roots. On average, a removable option lasts about 5 to 10 years before a new one needs to be created.
Dental Implant Options
Our team could also secure them with dental implants. The implants act as new roots and stimulate the growth of structure, so your jaw ridge doesn't change shape. When we connect dentures to these implants, your new teeth could stay in place for decades to come, possibly a lifetime! No need to remove them for soaking or cleaning either.
Talk To Your Leawood, KS Dentist About Tooth Replacement
Contact Dreem Dentistry in Leawood, KS by calling 913-681-5500 to learn more about replacing your missing teeth with a lifelike and long-lasting dental prosthetic!