Dentures with Lifelike Implant Posts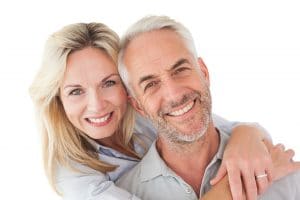 Dentures are designed to rebuild your smile when you've lost a significant amount of teeth on your dental ridge. With the ability to customize your denture (i.e., full or partial denture), we can help ensure your restoration closely matches your healthy, natural teeth in appearance. However, to make your denture more closely mimic your teeth, it needs the support of a series of dental implants. Made to replace your missing teeth roots, dental implants are placed within your jawbone, and can be utilized to support your denture with optimal comfort and stability.
What are implant-retained dentures?
Implant-retained dentures are similar to conventional dentures in that they're designed to restore your entire dental ridge. However, unlike conventional dentures, implant-retained ones come with the addition of root-like posts that can stabilize your replacement teeth more effectively than adhesives. This means your denture won't just reestablish your smile's appearance and ability to bite and chew, but also the vital functions that your teeth roots were once responsible for. That includes stimulating your jawbone when you bite and chew, which helps keep it strong and healthy after losing multiple teeth roots.
Do I qualify for implant dentures?
If you've lost most or all of your healthy teeth on your upper or lower dental ridge, then a denture may likely be the best option for restoring your smile. Most patients who've experienced tooth loss also qualify for dental implants. To ensure that an implant-retained denture is right for you, we'll carefully examine your oral health and jawbone to ensure that placing the implant posts is a good idea. Your examination may include the use of advanced digital imaging technology to gain a clearer picture of your oral health and candidacy for implant placement.
Learn about the benefits of implant dentures
Dental implants give your dentures a new level of realism, improving their stability and comfort while more fully restoring your smile. To schedule a consultation with us, call Dreem Dentistry in Leawood, KS, today at 913-681-5500. We also serve patients who live in Overland Park, South KC, South OP, Martin City, MO, and all surrounding communities.