Dentures to Treat Partial and Full Edentulism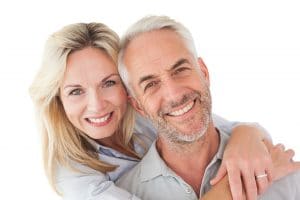 Rebuilding your smile after suffering from severe or complete tooth loss can seem like a huge undertaking. The loss can be too great for a dental bridge to restore; however, the right denture can be designed to replace the teeth you've lost and fully restore your smile. Partial and full dentures are custom-designed to meet each patient's unique needs, whether that means providing a complete row of replacement teeth, or strategically supporting the healthy, natural teeth that remain. In some cases, we may also suggest supporting a custom denture on a series of root-like dental implant posts.
What are partial and full dentures?
Traditionally, dentures have always been designed to replace an entire row of teeth on the upper or lower dental ridge. They consist of highly lifelike replacements arranged on a comfortable, gum-colored base that's designed to sit comfortably and securely on your dental ridge. Now known as a complete denture, they are still often recommended when patients no longer have any healthy, natural teeth remaining on their upper or lower ridges. However, if healthy teeth do remain, then a partial denture can be designed to replace the teeth that are gone while fitting around the teeth that remain.
Can they rest on dental implants?
For patients who qualify, dental implants can offer the most beneficial option for replacing lost teeth, and that's especially true when it comes to supporting a denture. The more teeth you've lost, the more important it is to replace your lost teeth roots and the stimulation your jawbone relies on. In cases of complete edentulism, an implant-supported denture can prove vital not only in restoring your smile, but also in preserving the health and integrity of the jawbone and facial structures surrounding it.
Schedule a visit to find the denture that fits you best
After losing several or all of your teeth, a partial or full denture can help you rebuild your dental ridge and restore your smile's healthy function and appearance. To schedule a consultation with us, call Dreem Dentistry in Leawood, KS, today at 913-681-5500. We also serve patients who live in Overland Park, South KC, South OP, Martin City, MO, and all surrounding communities.