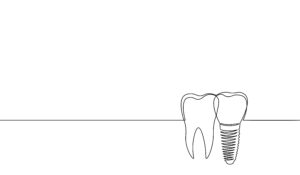 In our most recent blog, our team took a look at instances that might warrant a dental extraction and how this process could prove beneficial for your oral health. While nobody's first choice is to lose a permanent adult tooth, sometimes it is unavoidable. It is important to keep in mind, however, that while an extraction can lead to relief and better overall health, it will have an impact on your smile's ability to function normally as well. In today's blog, your Leawood, KS dentist explains why it is important to have a missing tooth replaced, as well as how a dental implant can offer functional benefits.
The Impact on Oral Function
As we mentioned previously, nobody's first choice is to lose a permanent adult tooth. After all, they will not come back naturally, and sporting a noticeable gap in one's smile will significantly detract from its overall appearance. Indeed, your oral health is always going to take priority when seeking dental treatment, but it is also important to have an understanding of how a lost tooth can impact your day-to-day routine as well.
The biggest thing that is called into question when losing a natural tooth is that of oral function. This is because your roots play an important role in stabilizing your teeth and allowing them to properly absorb the pressure of your bite. With so much as a single missing tooth, this is enough to throw your bite off greatly.
When this occurs, your other structures must accommodate the missing one, resulting in strain and even tension. Fortunately, implant technology makes it possible to address these concerns in a lifelike and realistic manner. To learn more about this process and how our team can help, give us a call today.
Utilizing Biocompatibility
Part of what makes implant technology so highly renowned is its ability to address more than just the gap in your smile. Your dental implant will consist of the biocompatible titanium post and the attached artificial crown. The post fulfills a role similar to that of teeth roots in that it stabilizes the artificial crown and allows it to support the pressure of your bite.
With the help of implant technology, your smile can be complete once more and offer the benefits of a healthy, natural bite function along with it. Contact our team to learn more about this process today.
Restoring Your Bite
Addressing tooth loss means more than simply completing your smile. Your oral function is integral for routine tasks such as biting, chewing, and eating, and our team is more than happy to meet with you and discuss your implant treatment options.
Learn More Today
Contact Dreem Dentistry in Leawood, KS by calling 913-681-5500 to schedule your next appointment with our team and learn more about the importance of having lost teeth replaced.