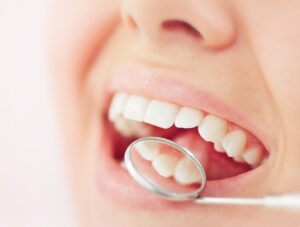 What do you know about cosmetic dentistry? These procedures are designed to improve the shape and shade of your smile, offering major esthetic improvements. In today's blog, your Leawood, KS, dentist is going to look at our different cosmetic treatments, and discuss how they can offer lifelike and stunning results.
Starting with a Cosmetic Consultation
Ready to do something about your smile's appearance? We feel everyone should be proud to show off their smile, and we have an array of cosmetic treatments to address minor and even severe cosmetic concerns. To get started, schedule a consultation with our team so we can talk to you about your smile goals and also carefully examine your teeth and gums with digital x-rays and intraoral cameras, so we can identify the factors behind these concerns and fabricate a plan that addresses them, often in as little as one to two visits.
Planning Your Treatments
Digital x-ray images require 90% less radiation and are available instantly chairside, no need for uncomfortable bitewings either! With these images, we can create a treatment plan with precision and accuracy, so we can offer a smile makeover in many cases, using one or multiple cosmetic treatments to improve the overall beauty of your smile. In the process, these treatments could also boost overall oral health and bite function too, so you obtain a stronger smile as a result.
Teeth Whitening
Teeth whitening is a common cosmetic treatment that we use to address stained teeth. Our in-office procedure only takes one visit and can brighten teeth by several shades. The procedure is a simple one. Our team will put a protective covering on your lips and gums and apply a powerful bleaching solution to the teeth. We use a special light to activate the gel and break up stains in as little as one hour. If you need results quickly before a first date or job interview, this is a great option.
If you have more severe staining and don't want to risk tooth sensitivity, we could also offer our home-based teeth whitening treatment. This treatment will involve creating a set of custom plastic trays that you bring home with you, along with several plastic syringes of bleaching gel. Treatment involves wearing the gel-filled trays for about an hour a day over the course of one to two weeks, the exact time depending on the severity of your discoloration. The trays ensure even results and prevent the gel from being diluted. Afterward, your teeth could be up to eight shades brighter, and the trays and leftover gel are yours to use for touch-ups as needed in the months to come.
Porcelain Veneers
Porcelain veneers are thin restorations that cover the front and sides of your teeth, instantly reshaping them. These alone could offer a complete smile makeover for many patients. The porcelain material can be shaded to blend with your smile, and can handle daily bite forces and pressures with ease. Our team will begin by numbing the teeth being treated so we can gently remove a thin layer of enamel and make room for your veneers. We then take detailed digital images of the teeth from multiple angles, and use them to create a 3D model of your tooth. In a lab setting, we then create your custom veneers.
In a second visit, we will check the fit and make any necessary changes before we attach them using a powerful bonding agent. With proper care and attention, your veneers to last for years to come! We could place them to fill gaps between teeth, mask teeth stains, reshape malformed or damaged teeth, and lengthen worn down structure too. We can even correct the appearance of minor misalignment so you have a straighter-looking smile without the need for braces or aligners.
Invisalign® Aligners
Our team can also offer clear orthodontics to treat misalignment, so you don't need to wear metal braces at all. Instead, we will create a series of plastic aligners that will be down daily. Each set is worn for 20 to 22 hours a day, over a period of about two weeks. The total treatment time is as little as one year. So you enjoy a straighter smile with practically invisible orthodontics! If you have any questions about cosmetic dentistry, then contact our team today to learn more.
Talk To Your Leawood, KS Dentist About Our Cosmetic Treatment Options    
Contact Dreem Dentistry in Leawood, KS by calling 913-681-5500 to learn more about our cosmetic treatments and find out how they can transform the appearance of your smile, often in as little as one or two visits.