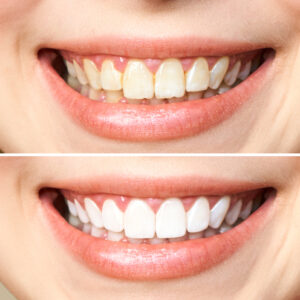 If you have discoloration and want a brighter smile, don't rely on store bought strips and toothpastes, Instead, obtain dramatic and long-lasting results with our professional teeth whitening systems. In today's blog, your Leawood, KS, dentist discusses our in-office and at-home teeth whitening treatment options.
Our In-Office Treatment
Our in-office teeth whitening treatment could offer major results in only one sitting. Our team will first apply a powerful bleaching gel to the teeth. We then activate the bleaching ingredients in this gel with a special light. The process takes one only visit to brighten your smile, great if you need results fast, such as for an upcoming job interview or first date. With the BOOST system, we can follow this in-office procedure by sending you home with a set of trays and syringes of bleaching gel to continue care at home, so you can whiten your teeth by several shades.
Whitening Teeth at Home
To tackle severe discoloration, ww could offer an at-home teeth whitening system. First, we will take impressions of your smile to create a set of plastic trays that fit over your teeth comfortably. We then send these home with you, along with eight syringes filled with a bleaching gel. Each day, you fill the trays with gel and wear them for a set amount of time daily, over a period of one to two weeks. The trays ensure even results as your teeth are brightened by up to eight shades. We could also offer Opalescence GO, which includes ten upper and lower sets of trays to use for touch-ups as needed in the future.
Masking Discoloration
The treatments we listed above are designed to address extrinsic teeth stains, the discoloration that develops on the surfaces of your teeth. But what if you have teeth stains that occur in the dentin, beneath your enamel? Known as permanent teeth stains, these could be difficult to remove with traditional treatment options. However, our team could mask these with unique cosmetic treatments! For example, we could use dental bonding to mask them in one visit, employing the same composite resin used as part of our dental fillings. We could also use lifelike porcelain veneers, thin restorations that instantly change the surfaces and shape of the teeth. These also address issues with damaged and misshapen teeth, and can help close gaps between the teeth too.
If you have any questions about teeth whitening, or about any of our other cosmetic treatment options, then contact our team today to learn more.
Do You Need A Brighter Smile?
Contact Dreem Dentistry in Leawood, KS by calling 913-681-5500 to learn more about how our team can remove unsightly teeth stains, often in only one visit.