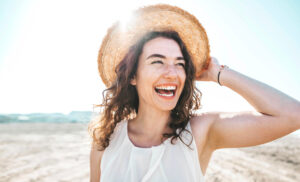 When you have several cosmetic concerns with your teeth, you may assume you need several treatments to correct these imperfections. But with porcelain veneers, our team can offer lifelike restorations to correct the issues with your smile's appearance. In today's blog, your Leawood, KS, dentist talks about the benefits of porcelain veneers.
Choosing Porcelain Veneers
You don't need a full plate of cosmetic treatments to transform your smile. Often just two visits to secure custom porcelain veneers can offer a smile makeover. Our team will carefully examine your smile to assess the cause and extent of your cosmetic imperfections. We then create a plan to address them, and for many, this can be done with one or more porcelain restorations. Each restoration is a thin layer of porcine that covers the front and sides of each tooth. They instantly change the tooth's shape and color, and blend seamlessly with the rest of your natural teeth too. We shade them to ensure they blend, and they can last for years to come with proper care and attention.
The Cosmetic Benefits
Since they cover the front and sides of the teeth, we can use them to correct major discoloration, the kind that may not respond to teeth whitening. Placement can also close embarrassing gap between teeth, correct misshapen teeth, and even lengthen worn down structure as well. Placement has also corrected the appearance of your smile's alignment, providing a straighter looking smile with the need for braces or plastic aligners. You then enjoy a brother and more attractive smile, one you can't wait to show off to the world! But how do we create and place these lifelike porcelain veneers?
Placement
To begin, our team will gently numb the tooth or teeth receiving these restorations. We then gently remove structure from, taking away a thin layer of enamel to make room for them. When we do, we take detailed digital images of the teeth from several angles, using them to create a 3D computer impression. The impression allows us to design and fabricate your custom eveners in a lab setting. When they're ready, we will check the fit and make any necessary adjustments. Finally, we attach them with a powerful bonding. To keep them bright and protect the teeth we've attached them to, be sure you brush and floss daily, watch what you eat and drink, and also see us every six months for a checkup and cleaning.
If you want to learn more about porcelain veneers, then contact our team today.
Do You Need Cosmetic Dentistry?
Contact Dreem Dentistry in Leawood, KS by calling 913-681-5500 to learn more about how our team can offer a major smile transformation for the appearance of your smile.