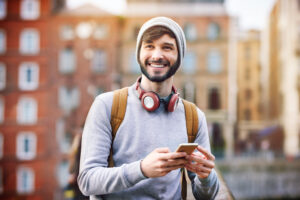 It can be difficult to be at your best socially when you struggle with a poor quality smile. Enamel wear and damage is a highly common concern in people of all ages and can happen for a variety of reasons. From physical trauma to acid erosion, misshapen or improperly sized teeth can leave their mark on your appearance.
Cosmetic dentistry using porcelain veneers can help you to live your life to the fullest. These are durable caps that coat the tooth with a transulcent ceramic. This provides a new tooth surface that looks gorgeous and can stay functional for a long time with proper care and maintenance. Discover how a cosmetic dental improvement using this technique could help you to regain confidence in your smile. We proudly offer this form of dental enhancement at Dreem Dentistry in Leawood, KS. Repair your enamel damage and enhance the appearance of your teeth simultaneously.
Porcelain Veneers Have A Fascinating History
The start of this procedure comes from 1929 in Hollywood. A Los Angeles dentist named Dr. Charles Pincus developed a set of ceramic special effects teeth for use in the filming of a movie. While this apparatus was never intended for daily use, it was notably similar to our natural material.
A later process known as etching helped to solidify veneers as a permanent smile enhancement. Etching is the abrasion of the enamel and it allows for a strong connection between natural tooth and overlay material. For the last forty years or so, veneers have become a common cosmetic procedure for the repair and improvement of enamel.
How This Procedure Can Help You Smile With Effortless Style
Porcelain veneers use a specific form of ceramic. This material is often seen in drinkware for its durability as well as elegance. The use of porcelain gives you a durable chewing surface that looks natural.
The creation of a veneer is also a custom experience. Speak with your qualified dental health professional about your options, as the repair of existing enamel can create lasting positive change. For instance, minor alignment concerns such as gaps or overcrowding can often be addresed by our skilled ceramicists.
Crafting Gorgeous Smile Solutions In Leawood, KS
A beautiful set of teeth can go a long way in your social and professional lives. If you are looking to repair damage to the enamel, porcelain veneers can help you to smile with the confidence you deserve. Take charge of your appearance with cosmetic dentistry at Dreem Dentistry in Leawood, KS by calling 913-681-5500. Schedule an appointment for a consultation with Dr. Reem Haj-Ali, DDS and find out how durable enamel improvement can allow you to be the best version of yourself!