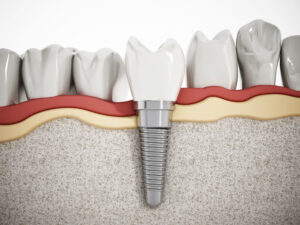 When you suffer from missing teeth, this impacts multiple aspects of your life. You could even have trouble eating or speaking, and you could lose your youthful facial features. But with dental implants, our team can secure new teeth that have the potential to last decades. In today's blog, your Leawood, KS, dentist talks about the benefits of placing dental implants.
The Loss of Natural Teeth
We could lose our teeth due to an injury to the jaw or face, or as a result of an untreated cavity or infection that grows so severe extraction is necessary to protect the smile. The advanced stage of gum disease, known as periodontitis, is the number one cause of adult tooth loss. When we lose our natural teeth, these gaps can lead to misalignment, tooth decay and gum disease, and even the increased risk of jaw joint disorders like TMD and bruxism (teeth grinding). But the most severe complication is the body's response. The body will no longer send doses of calcium and phosphates to the area around the missing root, so the jaw breaks down, losing mass and density. This is linked to further tooth loss and even a prematurely aged appearance! But dental implants can prevent these complications and even preserve the jaw.
The Benefits of Dental Implants
Each dental implant is made of three main portions. The implant portion is a small screw-like post that is created from titanium, a biocompatible material the body accepts as natural bone structure. This is inserted into the jaw, where it bonds with the smile through osseointegration, acting as new roots and preventing the jaw from losing mass and density. Next is the abutment, which we will connect to the post. This extends above the gum line so we can attach the custom crown that acts as the new visible portion of your smile. These new teeth look and function like natural ones, and can last for decades to come or even a lifetime with proper care and attention.
Planning Placement
Our team will plan the placement process in detail, examining the jaw with digital x-rays so we can assess the strength and stability. We want to choose the best area and position to ensure your new root can support a tooth and stimulate the growth of jawbone structure. If you have a jaw too weak for placement, we could discuss options like grafting or sinus lifts to ensure your smile can support your new teeth.
Sedation and Anesthesia
Placing your new teeth is an oral surgical procedure, so of course we take steps to ensure you feel comfortable and relaxed. For example, we will administer a local anesthesia to the placement area to keep you comfortable. Our team also offers sedation to help you enter a calm and relaxed state, with little to no memory of the procedure afterward. The sedation option we choose depends on your age, weight, medical history, and anxiety levels. We don't want anxiety or special needs to stand between you and the full smile you deserve!
Replacing Individual Missing Teeth
Dental implants and crowns are what we use to address an individual missing tooth. As we touched on above, this consists of inserting the post into the jaw and connecting an abutment to support a crown. The crown is created from porcelain, a durable material that can handle daily bite forces with ease. The material can also be color matched to blend with your smile and offer a lifelike appearance too. You can eat your favorite foods again and smile without hesitation!
Fixed Dentures
If you have more severe tooth loss, we could insert multiple posts across the arch to support a bridge, partial, or even a complete set of dentures. These prosthetics are fixed in place, so no need to remove them for soaking or cleaning. They never slip when you eat or speak, and they can last far longer than traditional bridges or removable dentures. You will have a complete smile that infections like a natural one, and prevents the aged appearance from developing by preserving your jawbone structure. If you have any questions about addressing minor or extensive tooth loss with our dental implants, then contact our team today to learn more. We want to help you smile with confidence and enjoy optimal oral health, so don't live with tooth loss, give us a call.
Talk To Your Leawood, KS Dentist About Implant Dentistry      
Contact Dreem Dentistry in Leawood, KS by calling 913-681-5500 to learn more about securing one or more replacement teeth that can last years to come and offer a natural appearance.