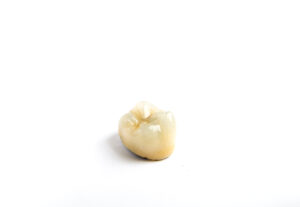 A dental crown can repair teeth that have sustained damage, or treat advanced tooth decay. In addition, they can offer a lifelike appearance too! In today's blog, your Leawood, KS, dentist looks at our full and partial crowns, and explains how we place them and which one you may need.
Partial Crowns
What happens when you have dental damage or a cavity that is too severe for a dental filling, but not quite extensive enough to require a full dental crown? In these situations, we can repair a tooth with a partial crown. These come in two varieties: inlay and onlay. The inlay fits in between the cusps on top of the tooth, while the onlay fits over the cusps. These are custom-made to ensure a proper fit and when possible, a lifelike appearance as well.
Full Restorations
A complete dental crown covers the entire visible portion of your tooth, so we can address a variety of minor and severe oral health concerns, both restorative and cosmetic. The restoration could be used to repair cracked, chipped, or broken teeth, or to add length to teeth worn down by teeth grinding. Placement could reshape malformed teeth and improve bite function and chewing capabilities too. We've used them to address tooth decay too serious for a filling, or to complete a root canal for an infected tooth. If you have missing teeth, then our team can employ them to secure a dental bridge, or to complete a single tooth dental implant too.
Creating and Placing Your Dental Restoration
How do we create and place them, whether they're full or partial? To get started, we will need to numb the teeth being treated to keep you comfortable as we gently remove structure from it. Once we do, we will take detailed digital images from multiple angles, which we use to create a 3D impression, one far more accurate than traditional physical impressions. In a dental lab, we use the impressions to design and fabricate your finished restoration. We then check the fit, make any necessary adjustments, and attach the restoration with a powerful bonding agent. In just two visits, we can restore your smile. We then use materials like porcelain when possible, as these can be shaded to blend with your tooth and offer a lifelike appearance.
If you have any questions about our full or partial dental crowns, then contact our team today to learn more. We're ready to help you enjoy a healthier and more attractive smile, so you can smile with confidence and avoid discomfort.
Does Your Tooth Need A Restoration?
Contact Dreem Dentistry in Leawood, KS by calling 913-681-5500 to learn more about how our team can repair your smile and even replace missing teeth with durable and long-lasting dental restorations.