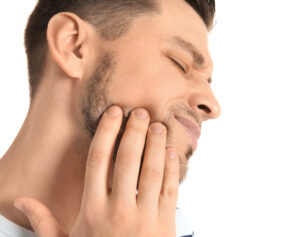 When a tooth is broken, you should take action quickly. Otherwise, your injury could lead to cavities, infection, and even tooth loss. Our team can offer treatment for a broken tooth, sometimes in as little as one visit! In today's blog, your Leawood, KS, dentist talks about how we treat a broken tooth with a lifelike restoration.
The Causes and Dangers of Damaged Teeth
Our teeth are coated in a very strong layer of outer enamel, which protects the teeth from cavities and injury. But that doesn't mean our smiles are invulnerable. When an injury does happen, due to an accident, biting down on a hard piece of food, teeth grinding, or other factors, you need to see us for treatment. The damage, even if it's a minor crack or chip, could expose the sensitive inner structures to bacteria, allowing painful cavities and infections to develop that threaten tooth stability. When you sustain a dental emergency, you should see us right away.
Addressing Your Discomfort
Even if your injury occurs outside of normal business hours, please give us a call to schedule a visit. We will call you back and arrange a time to see you so we can treat your injury and offer relief. After you call, be sure you use a cold compress or ice pack to reduce facial swelling. You can stem bleeding with a cloth or piece of gauze, and rinse with warm water too. If you can recover any pieces of your tooth then do so and bring it to the office in a sealed container. If not, don't worry, we can still repair your broken tooth. If you have discomfort, take an over-the-counter pain reliever to ease your pain until we can see you for treatment.
Dental Bonding
Often, we repair dental damage with a bonding procedure. The process involves numbing the tooth and then removing any debris. We will then apply the composite resin bonding material in several layers. This is the same material we use in our tooth-colored dental fillings. The material is metal-free and shaded to blend with your tooth. Once we apply the composite resin, we will sculpt and mold the tooth as the material cure beneath a special light. The last step is to polish the tooth. This takes only one visit, so you leave with a more attractive smile. If your chip is so minor that it doesn't threaten your oral health, we could also use contouring to gently sand and buff the tooth, essentially removing the chip in a single visit.
Custom Dental Crowns
If your injury is too severe to be addressed with bonding, then we could cap the tooth with a custom-made dental crown. When possible, we use materials like porcelain, porcelain-fused-to-metal, or zirconia, which are durable and strong, but can also be shaded to blend with your smile seamlessly. We numb the tooth and remove structure from it to make room for the crown. We then take images and measurements, which we use to design and fabricate the finished product. Our team then attaches the crown with a powerful bonding agent. With proper care and attention, this could last for years to come and protect your smile from discomfort, while also ensuring an attractive appearance and balanced bite.
Prevention
What could be done to prevent broken teeth and other dental emergency situations? Well, our team could help create a custom mouthguard, which provides greater protection than a typical store bout boil-and-bite option. This is helpful if you play full contact sports or martial arts. You can also take time to brush and floss and see us for cleanings, keeping your smile strong and free of the decay or infection that could weaken them and leave them more vulnerable to injuries. We want to help your family obtain optimal oral health and beautiful smiles!
If you have any questions about how our team addresses common dental emergencies, such as cracked or chipped teeth, then contact our team today to learn more. We would love to schedule a consolation and address your injury, so you can smile with confidence and avoid major oral health complications.
Talk To Your Leawood, KS Dentist About Repairing Broken Teeth
Contact Dreem Dentistry in Leawood, KS by calling 913-681-5500 to learn more about our dental restorations! We would love to help you enjoy optimal oral health by addressing any injuries or sudden discomfort impacting your smile. Everyone deserves to enjoy a beautiful and healthy smile, one free of discomfort, so give us a call to learn more. This summer, let us improve your oral health!