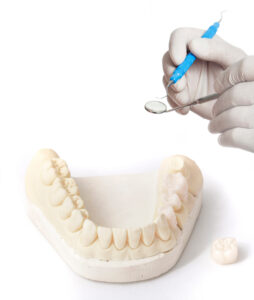 When you have a broken or cracked tooth, or develop painful cavities or infections, or even have a gap in your smile, you need help. With restorative dentistry, our team can create lifelike restorations to treat these concerns and improve your oral health and bite function. In today's blog, your Leawood, KS, dentist talks about our approach to restorative dentistry.
When You Need Restorative Dental Care
Our team may recommend restorative dentistry to address concerns with the health and function of your smile. For example, if a tooth is damaged, a lack of attention could mean painful cavities and infections. Restorations also treat cavities and infection too, protecting the health and stability of your smile. Many restorations offer lifelike results too! Our team could also use restorative dentistry to address missing teeth, so you can enjoy a complete smile again.
Ensuring Your Comfort
When you undergo restorative dentistry, we want to ensure you feel comfortable and relaxed throughout the entire process. Our team can administer a local anesthesia to the area being treated, and we can also discuss sedation options to help you enter a calm and relaxed state. This is beneficial for those undergoing extensive treatments, or for those with special needs or anxiety that make undergoing even minor procedures a difficult process. We want to make sure you receive the care you need in a comfortable and relaxing manner.
Dental Fillings
When you have a toothache due to a cavity, you need restorative dentistry. Our team can place a filling in only one visit to stop decay and protect the tooth. The procedure will use composite resin instead of metal, so the restoration looks natural and is safe for all ages, from babies and toddlers to teens and adults. The process involves numbing a tooth, removing decay, and then cleaning the tooth thoroughly. We then apply the prepared filling material, and reshape the tooth as the material cures beneath a light. Finally, we polish the tooth! In one visit, we offer treatment for your aching tooth.
Bonding and Contouring
Using the same composite resin as our fillings, we can also conduct a bonding procedure to address issues with damaged teeth, gaps between teeth or misshapen teeth. We can also offer cosmetic benefits, like making permanent teeth stains. Again, the process only takes one visit and is completed in much the same manner as filling placement. In the same visit, we can also contour the teeth. With dental contouring, our team will sand and buff the structure to correct the appearance of minor chips, reshape malformed or overly large teeth, and dull sharp, pointed, or jagged teeth too. The procedure can also smooth out pits, grooves, and rough patches in the outer structure, all in the same sitting as your bonding procedure.
Custom Crowns
Restorative dentistry also enables us to design and craft custom dental crowns, which can be placed on the teeth to address damage, treat advanced decay or infection, or to improve bite balance and chewing capabilities. We can also correct misshapen teeth and even aid in tooth replacement, as crowns can secure bridges in place or complete a single tooth dental implant. They're custom-made for your smile and the porcelain options are shaded to blend with your smile.
Dental Bridges
If you have lost a tooth, or up to three in a row, then restorative dentistry can include a custom prosthetic. Dental bridges are custom-made to fit your smile and provide a balanced bite. The prosthetic contains new teeth with crowns on one or both sides, placed onto the teeth on each side of the gap. Your prosthetic can often stay in place for up to 10 to 15 years in some cases!
Dental Implants
Dental implants provide the most advanced and long-lasting option for addressing missing teeth, as these are actually inserted directly into the jaw. They bond with the smile like natural roots, so your new teeth can last for decades and prevent the loss of mass and density that usually follows tooth loss. We can replace an individual tooth, or even support bridges or a fixed set of dentures. If you have any questions about our approach to restorative dentistry, or if you would like to schedule a visit soon to see our team, then contact our office today to learn more.
Do You Have Questions About Restorative Dentistry
Contact Dreem Dentistry in Leawood, KS by calling 913-681-5500 to learn more about how our team can offer better oral health and a more attractive smile with a custom dental restoration.