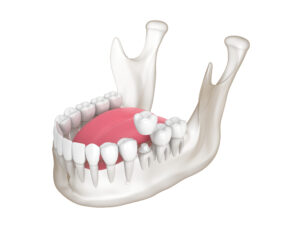 Restorative dentistry allows our team to address damage to your teeth, such as chips or cracks. Our team can also correct cavities and infections, and even offer natural-looking tooth replacement! In today's blog, your Leawood, KS, dentist talks about how we improve smiles with restorative dentistry, so you can enjoy optimal oral health and an attractive smile for years to come.
When to Seek Treatment
To begin, we will start with a diagnosis. Employing advanced digital x-rays and intraoral cameras, our team will take detailed pictures of your teeth from several different angles, and use them to make a diagnosis with precision and accuracy. From there, we can create a treatment plan to correct the concerns we uncover. Restorative dentistry enables our team to make major changes to your smile's health, function, and even the appearance too.
Dental Fillings
Treating tooth decay is a major part of our restorative dental treatments. In most cases, we can correct the concerns in one visit with a dental filling. Instead of metal, we will employ a composite resin that is safe for patients of all ages, and is also able to be color matched to blend with your smile. The resulting restoration will prevent the decay from growing in severity and leading to an infection or tooth loss. As you will see, we also use the same material in our dental bonding procedures to repair damage and offer cosmetic improvement!
Dental Crowns
Restorative dentistry also involves the placement of dental crowns. These full restorations cover the visible portion of your tooth. Each one we offer is custom-made, and often crafted from materials like ceramic, which we can shade to offer a lifelike appearance. Our team could place a dental crown to treat cavities, complete a root canal for an infected tooth, improve bite function and chewing capabilities, and also repair more extensive damage too.
Bonding and Contouring
We can also offer cosmetic improvements with our restorative procedures. For example, with dental bonding we use the same composite resin as our fillings to repair minor damage, reshape malformed teeth, and close gaps between the teeth. In the same visit, we can also contour the teeth by gently sanding and buffing them to address the appearance of minor chips, reshape misshapen teeth, and smooth our groves, pits, and rough patches in the outer surface. We could also use contouring to dull sharp, jagged, or pointed tooth structure.
Dental Bridges
If you have minor tooth loss, such as one to three missing teeth in a row, our team can help with the placement of a dental bridge. The prosthetic consists of new teeth with crowns attached to each end. We custom-make them from durable and lifelike materials like ceramic, so they blend with the smile and also offer a durable chewing surface. The crown portions will be attached to the abutment teeth, the natural teeth on each side of your missing teeth, to secure a prosthetic lasts for years to come.
Dentures
What about more severe cases of tooth loss? We also have custom dentures for a lifelike appearance and a durable and dependable chewing surface. We again custom-made them to ensure a lifelike appearance. Partials handle smiles with multiple gaps spread out across the arch, filling the gaps in the smile. Metal clasps help keep them in place. A full denture contains a complete row of teeth and is held in place with suction or adhesives. Both are removable and last about 5 to 10 years on average. They will need to be soaked and cleaned regularly too.
Dental Implants
The most lifelike form of tooth replacement is dental implants. When people seeking restorative dentistry have missing teeth, we can insert a dental implant post into the jaw. The post bonds with the jawbone and acts like a new tooth. We then attach the restoration or bridge or dentures to it. Your new tooth or teeth can last for decades to come instead of just 5 to 10 years. They also never slip and never need to be removed for maintenance. We can use them to address minor to severe tooth loss, and they look and function like natural teeth. Placement also prevents the changes to the jaw ridge and facial structure that typically accompanies tooth loss.
If you have any questions about restorative dentistry, then contact our team today to learn more. We want to help you enjoy your best smile!
Ready for Restorative Dentistry?
Contact Dreem Dentistry in Leawood, KS by calling 913-681-5500 to learn more about how we address tooth decay, damaged teeth, and missing teeth with restorative dentistry.