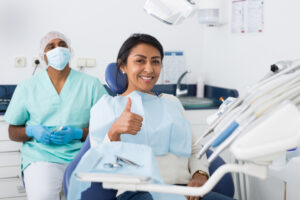 Thanks to various technological advances, we can obtain highly-detailed and realistic treatment to address dental concerns such as tooth loss. Indeed, nobody's first choice would be to lose a tooth, but unfortunately, this is not a choice many of us get to make. While most dentists will advocate you prioritize your preventive practices, it is important to recognize the role of routine checkups in addition to at-home care, otherwise, you could find yourself in need of treatment fast. In today's blog, your Leawood, KS dentist discusses the role and functions of restorative dentistry, and how dental restorations can address more than just your smile's appearance.
What Is Restorative Dentistry?
It goes without saying that, when considering what is best for your oral health, there is nothing more important than dental prevention. Indeed, preventive care can take a variety of forms, including brushing your teeth at home, flossing, and attending your regularly-scheduled checkup and cleaning appointments. Though this process is necessary for a lifelong bill of health, it is no match for significant damage and infection.
Whether we like it or not, oral bacteria and other threats are constantly coming into contact with our smiles. Though it is virtually impossible to rid the mouth of all of them, it is possible to keep them at a minimum risk. Even still, dental emergencies and other concerns can arise without any warning, and in the event they occur, you will likely need to seek restorative treatment.
You see, restorative dental care involves processes that aim to mitigate damage or infection, restore your functional capabilities, and otherwise prioritize your health by eliminating a threat and rebuilding support. To learn more about this process and how our team can help, give our office a call today.
Various Ways to Address Your Needs
One of the major benefits that accompanies restorative dentistry is that it is largely customizable in nature. For example, dental decay may lead to the formation of a cavity, and restorative fillings can help. Another example includes decay that has spread to your sensitive tooth roots. Here, the infection can cause damage to your nerves, resulting in discomfort, sensitivity, and significant pain when performing routine tasks such as biting and chewing. In other words, restorations can be used to meet your needs, regardless of extent. For more information about this process, contact our team.
Prolonging Your Smile's Lifespan
As your primary dentist, it is our goal to help you achieve a healthy and strong smile. Sometimes this requires an update to your regular preventive routine, and other times it requires more extensive, restorative measures.
Learn More Today
Contact Dreem Dentistry in Leawood, KS by calling 913-681-5500 to learn more about the important functions of restorative dental treatment, and schedule your next visit with our office today.