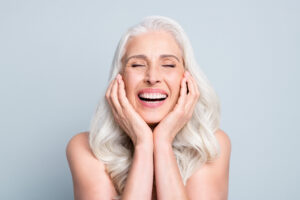 It goes without saying that there are certain circumstances that can arise at any given time, and sometimes it can be difficult to anticipate them. For example, a dental emergency is not only unpredictable, but it can affect you in a variety of different ways. This means that there is no telling what will happen, and it is best to act sooner rather than waiting when seeking dental care. In today's blog, your Leawood, KS dentist takes a look at the way dental implants can be used to address missing teeth, as well as what they have to offer in terms of functional benefits.
In the Event of Tooth Loss
When it comes down to it, nobody's first choice would be to lose a tooth as an adult. For starters, adult teeth are permanent, which means they will not grow back if one becomes dislodged or removed. What's more? You will endure complications with your smile's appearance and ability to perform routine tasks such as biting and chewing. In cases such as these, it is beneficial to seek restorative options such as an artificial or implant tooth.
Dental restorations, or restorative dentistry, is an umbrella term used to describe a number of procedures that aim to prevent infection or damage from spreading farther, eliminating the threat, and restoring your oral health to previous levels. What's more? Virtually every situation can be treated, and care is often customized to your needs precisely.
In the event you lose a natural tooth, endure damage so significant that your tooth is considered compromised, or otherwise require a tooth be extracted, your dentist may recommend the restorative abilities of a dental implant. Give our team a call today to learn more about this process and how to identify your options.
Addressing Bite Pressure
Though you may initially see permanent tooth loss as a cosmetic concern, the truth is that it actually impacts your oral function as well. You see, your teeth roots anchor your structures to the jawbone so as to help you absorb bite pressure without faltering.
In order to address the damaging effects of even a single missing tooth, our team may recommend the help of dental implant restoration treatment. This process involves strategically placing a biocompatible implant post into the jaw so it may function as an artificial root. To learn more about this process and what your treatment options are, give our team a call today.
Providing Lifelike Results
In addition to enhancing your functional capabilities, we take care to create implant restoration options that closely mimic the natural shapes, textures, and even hue of your smile. This allows our team to help restore your function with virtually seamless results.
Learn More Today
To learn more about the functional capabilities of dental implants, contact Dreem Dentistry in Leawood KS by calling 913-681-5500 and speak with our office to schedule your next appointment today.