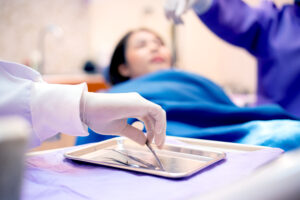 Maintaining a healthy smile for life begins by laying a healthy foundation of preventive care. In other words, the sooner you start preventive dental care, the better chances you have for keeping your smile healthy. Though you may be taking care of your teeth to the best of your ability, keep in mind that accidents can occur at any given time. While you cannot predict when one occurs, however, you can create a contingency plan to follow in the event one does occur. In today's blog, your Leawood, KS dentist explains what to do in the event of a dental emergency, as well as how our team can help.
What is an Emergency?
From a young age and well into your adult years, you often come to learn what an emergency is. Though the situation will vary depending on the circumstances, an emergency can be identified as an out-of-the-blue situation in which something posing an immediate threat occurs. Indeed, this can include a sudden animal attack, speeding home because a fire broke out in your home, and commonly, injury occurs to the oral cavity.
When taking a closer look at a dental emergency, it becomes clear that virtually every possible scenario can occur, and as such, there is no way to know exactly how you will be affected or even how you might react! With that in mind, what is the best way to treat the situation? Fortunately, our team offers emergency dental care that can restore oral function and health.
Indeed, emergency dentistry helps address dental concerns in a timely manner so as to preserve your oral health. To learn more about this process and how our team can help you, give our team a call today.
Create a Contingency Plan
Though it may be true that you cannot anticipate when an emergency will occur, it is entirely in one's wheelhouse to create a "what if" plan. This is known as a contingency plan, and can assist you in unexpected moments.
For example, public schools prepare us for the unexpected when we practice fire drills and tornado drills. The same line of thinking can be applied to a dental emergency, as time may truly be of the essence. This includes identifying a person or two that you will contact for assistance, locating any dislodged or lost structures, and making your way to our office.
Phone a Friend
As we mentioned earlier, it is best to have someone in mind – and a backup person – to call on for help to and from our office. This is because, depending on the scenario, you may require restorative treatment and dental sedation. A friend can also provide a sound mind and efficient action in the event you may be in shock or significant pain.
Schedule Your Appointment
Contact Dreem Dentistry in Leawood, KS by calling 913-681-5500 to learn more about your dental emergency options, and schedule your next appointment with our team today.