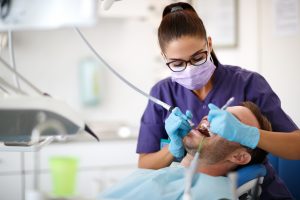 Taking care of your smile is a lifelong endeavor, and an effective dental routine is the number one way to pave a path for a healthy grin. Even still, accidents can occur at any time, and depending on the severity of the situation, your preventive routine might not cut it. Asa result, a backup plan to mitigate damage and preserve your natural teeth is needed, and fortunately, that is exactly the role that restorative dentistry fulfills. In today's blog, your Leawood, KS dentist is going to explain the importance of restorative dentistry, and why you should seek treatment for your concern sooner rather than later.
Benefitting Your Oral Health
It goes without saying that preventive dentistry is the name of the game when it comes to keeping your teeth strong and protected. Indeed, when you take care to brush twice a day, floss after meals, attend routine checkups, and pay mind to the impact foods and beverages have on your teeth, you are able to provide appropriate protection from harm, as well as care for your oral health in an ideal manner.
The problem arises, however, when uncontrollable circumstances such as enduring a physical accident or injury occur. Indeed, these situations are hardly predictable or avoidable, and the best we can do at times is seek treatment to attend to any damage endured. Cases such as these may be as minor as a chip or crack that does not impact oral function, or it can be as major or severe as a broken or dislodged tooth. To learn more about this process and what you can do, reach out to our team for more information today.
How Function Plays a Role
Your oral health should be the top priority when it comes to caring for your smile, which means threats to your health should be handled with immediate care. Similarly, threats that impact your health also have a high probability of affecting your oral function and ability to perform everyday tasks as well.
Losing as little as a single tooth can impact your bite's function tremendously, and chances are, the longer you wait to seek treatment, the worse your situation will become. Because of this, your dentist stresses the importance of timely restorative treatment, and we are ready to help.
Options That Can Help
Restorative dentistry often includes any treatment that aims to mitigate damage, prevent disease or infection from spreading, and ultimately reinforcing your natural teeth. When caught early on, treatment such as dental fillings, root canal treatments, and dental crowns can be of great help. In situations where an injury is more on the severe side, extraction and dental implants may be a more appropriate solution to help restore function.
Schedule Your Appointment
Contact Dreem Dentistry in Leawood, KS by calling 913-681-5500 to schedule your next appointment with our team and learn more about the need for dental restorations today.