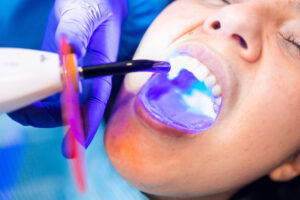 When a tooth is misshapen or damaged, we can offer a restorative treatment in one visit that can transform the tooth. In fact, we have two treatments that can be completed in one visit with esthetically-friendly results. In today's blog, your Leawood, KS, dentist talks about the benefits of dental bonding and cosmetic contouring.
The Procedure
Dental bonding employs the same composite resin material we use on our dental filling procedures, as this material is metal-free, safe for all ages, and also lifelike in appearance. Our team can shade the material to blend with your tooth and offer a natural appearance. The placement is simple. Our team will numb your tooth and then remove any decay present. We etch the surfaces of the tooth and then apply the prepared material in several layers. As these layers cure beneath a special light, we sculpt and mold the tooth. Finally, we polish the tooth for a brighter appearance.
Dental bonding can repair cracked or chipped teeth, lengthen worn down structure, and even close unsightly gaps between teeth. We've also masked permanent teeth stains and reshape malformed teeth as well. For many, these can offer major transformation in only one visit.
Contouring Your Teeth
We could also contour the teeth in the same visit. This cosmetic treatment involves sanding and buffing outer structure to correct minor cosmetic concerns. For example, our team can correct the appearance of minor chips and also reshape malformed or overly large teeth. We can smooth out pits, grooves, and rough patches in the outer surfaces too. The procedure can correct jagged, sharp, or pointed tooth structure too. We can use this with bonding, or separately, and again this only takes one visit to complete.
Starting Treatment
If you have cosmetic concerns with your teeth, let us know! If you have several, we can likely offer transformation in as little as one visit with bonding and contouring. To get started, our team will carefully examine the smile to assess the cause and extent of your cosmetic concerns. We then recommend the most appropriate treatment option, so you can obtain the smile you've dreamed of. These treatments could also be combined with teeth whitening to ensure the results match your brightest smile.
If you have any questions about cosmetic dentistry, or about dental bonding and contouring in particular, then contact our team today to learn more. We want to help you enjoy your best possible smile!
Do You Have Questions About Restorative Dental Care
Contact Dreem Dentistry in Leawood, KS by calling 913-681-5500 to learn more about how our team can reshape and repair teeth with our cosmetic treatments, so you can smile with confidence once again.