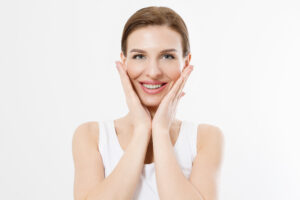 Taking care of your smile is a much more involved process than you might have initially imagined. While you may be aware of the preventive responsibilities required to promote appropriate oral health, it is important to recognize that there is also value in your cosmetic dental health as well. In fact, a person's confidence and self-worth have been shown to be tied to one's smile appearance, and nothing is worse than sporting a grin a crack away from perfection. In today's blog, your Leawood, KS dentist discusses the process of bonding and contouring, as well as how it helps address noticeable cracks or chips on the surface level.
Years of Wear and Tear
Believe it or not, your smile endures a significant amount of wear and tear over the years. Indeed, from the moment your first tooth arrives and well into your adult life, there is hardly anything out there that does not pose a threat to your teeth. Additionally, daily habits and practices contribute to noticeable stain development, chips, and even cracks. Without consistent care, this can significantly bring your smile down.
You see, many items are unavoidable. Take, for example, the foods and beverages you consume. These items contain colorful molecules that can – and do – stain your teeth. What's more? Dental emergencies or accidents may result in a chipped or cracked tooth. In cases such as these, it may be beneficial to pursue cosmetic treatment.
Cosmetic dentistry aims to correct the aforementioned items in a safe, non-invasive manner. There are different options to treat different needs, but none are better suited for cracks and chips than that of bonding and contouring. To learn more about this process and how our team can help, give us a call today.
Looking at the Process
Bonding and contouring is a cosmetic process that involves applying a composite resin material to the affected areas, then shaping or contouring the material to mimic the natural textures and shape of your tooth. Once the material has been shaped to satisfaction, a special light is utilized to cure the material. The best part? It only requires a single visit to complete! Contact our office today to learn about your treatment options and how to get started.
A Lifelike Finish
In addition to the simple, non-invasive nature of treatment, bonding and contouring offer highly realistic results. You see, the material used in the process is a composite resin that can be shade-matched to the natural hue of your smile. In other words, we help smooth noticeable blemishes in such a manner as to provide a near-seamless finish that cannot be detected by others from a distance.
Learn More Today
Contact Dreem Dentistry in Leawood, KS by calling 913-681-5500 to schedule your next appointment with our team and learn more about the ways bonding and contouring can address noticeable chips and cracks.