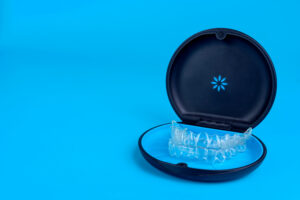 When you picture orthodontic treatment, you likely imagine metal braces, or perhaps retainers. But what if there was a cosmetic option, a clear way to shift uneven teeth? In today's blog, your Leawood, KS, dentist talks about the benefits of Invisalign®, and who qualifies for this cosmetic approach.
When to Seek Treatment
When you have crooked, crowded, and overlapping teeth, you need to seek treatment. Misalignment not only impacts the beauty of your smile, but also makes thorough brushing and flossing difficult, increasing the risk of tooth decay and gum disease. For others, poor alignment could strain the jaw joints, boosting the risk of TMJ disorder and bruxism (teeth grinding). Our team can help you enjoy better oral health by gently and properly correcting the position of your teeth, often in as little as one year.
Getting Started
To begin, we will schedule a consultation so we can talk to you about your smile and potential treatment options. Our team will then carefully examine your teeth with detailed digital x-rays and imaging systems, so we can assess the cause of your misalignment and the severity of it. This enables us to choose the most appropriate treatment option, which can include the Invisalign® system. If so, we will take detailed digital images of your smile and combine them to create a 3D computer model. The impression will be used in a lab setting to design and craft your new aligners, as each set is custom-made for your smile to provide care with precision and accuracy.
The Invisalign® Process
Once your aligners have been completed, you can start the treatment process. You begin by wearing a set of plastic aligners for about 20 to 22 hours a day, for about two weeks. Afterward, you start wearing the next set in the series. These will be designed to fit comfortably and gently shift the teeth without causing gum and cheek irritation. The process takes about a year for adults, and could require 18 months for teens or those with more severe cases of misalignment. The process requires fewer office visits than braces would, and you can remove them before meals or prior to brushing and flossing. This convenience makes your day-to-day experience much simpler. You can also take them out for special occasions, provided you're wearing them for the time our team recommends.
If you have any questions about correcting malocclusion with a series of clear and cozy plastic aligners, then contact our team today to learn more. We would love to help you with the Invisalign® system.
Ready to Schedule a Cosmetic Appointment?
Contact Dreem Dentistry in Leawood, KS by calling 913-681-5500 to schedule your next appointment with our team and find out if clear aligner treatment is right for your smile.