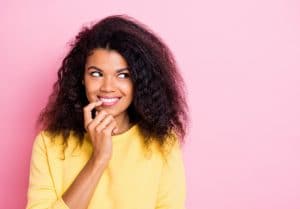 Improving your smile can do a lot to improve other aspects of your life, such as your overall level of self-confidence. Sometimes, though, improving your smile can seem like it's going to be a complicated endeavor, especially if it's affected by multiple different types of cosmetic concerns. Fortunately, more people are surprised to learn that improving their smiles' appearance and their confidence can be simpler than they expect. That's often thanks to the use of custom-designed porcelain veneers, which can address a multitude of concerns to create a minimally invasive smile makeover.
How veneers are designed to work
Porcelain veneers haven't been around as long as some other dental treatment options, such as dental crowns. Due to their highly precise nature and lifelike appearance, veneers only became possible when dental technology and the use of more biocompatible dental materials became more widespread. A veneer is a wafer-thin shell of porcelain that your dentist bonds to the front surface of your tooth, and is designed using digital imaging technology and crafted from highly biocompatible dental porcelain. They're designed specifically to restore the healthy, natural appearance of a tooth's front, visible surface, and to minimize the extent of alteration needed to the tooth's natural structure.
Using veneers to fix multiple issues
There are several different aspects of porcelain veneers that make them an ideal solution for addressing multiple types of smile concerns. Their thin, but highly durable construction is just one. Another is their ability to transform a tooth's appearance in an instant by recreating its front surface. This ability means porcelain veneers can be recommended to address a variety of smile concerns at once, including severely discolored teeth, chipped or cracked tooth surfaces, and much more.
Benefiting from minimally invasive treatment
Improving your smile's appearance is one thing, but keeping your cosmetic dental treatment minimally invasive is just as important. This leads to another significant advantage of using porcelain veneers to create your smile makeover; their thin construction and versatility means veneers can often create an entire smile makeover in just one procedure. This can minimize the extent of your treatment overall, and allow you to enjoy your newer, healthier-looking smile even sooner.
Learn if porcelain veneers can improve your smile
One or more custom-designed porcelain veneers may be able to completely makeover your smile in a more convenient manner than you'd expect. To learn more, schedule an appointment with us by calling Dreem Dentistry in Leawood, KS, today at 913-681-5500. We also serve patients who live in Overland Park and all surrounding communities.