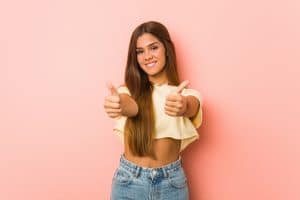 Confidence in your smile is an underrated trait, but it can have a real impact on your day-to-day life. If you feel embarrassed by the appearance of your teeth, you may hide them in social settings and be less likely to smile. Cosmetic dentistry focuses on improving the appearance of your smile. By making small adjustments to the surfaces of individual teeth, the alignment of your teeth collectively, and the shade of your teeth, your dentist can improve and reinvigorate your smile. Here are some of the most common cosmetic procedures that can give you confidence in your smile.
Cosmetic Improvements Can Happen on a Tooth-by-Tooth Basis
Your dentist can reinvigorate your smile as a whole by individually treating your teeth. A treatment like porcelain dental veneers is used to reshape the surface of each tooth. Veneers are thin sheets of dental porcelain that can be fabricated to create a clean, smooth appearance. Your dentist can gently smooth out the surface of the tooth that is receiving the veneer and then carefully attach the veneer, correcting for chips and misshapen teeth. Veneers can be placed over a single tooth, or over all of your teeth to form a set.
Cosmetic Dentistry Can Also Target the Entire Smile
Your dentist may also use a treatment option that affects all of your teeth collectively to create a cosmetic improvement. Invisible aligners are one such treatment. Invisible aligners can sometimes be used as a replacement for braces, but this option focuses more on the cosmetics of your teeth, rather than the functional realignment of your teeth. Straighter teeth look better in a smile, and they're also easier to clean. Invisible aligners are also more comfortable than traditional braces and much easier to maintain.
Your Dentist May Use Teeth Whitening to Brighten Your Smile
Your smile is a matter of shape and alignment, but it's also about the shine. Teeth staining is a common occurrence for many people throughout their lives. Over time, the pigment in food and drinks that you consume can build up in the surface of your tooth. This leads to a yellowed appearance that is unattractive in smiles. Teeth whitening treatment bleaches that pigment and restores the beautiful, white appearance to your teeth. You may have tried teeth whitening toothpaste or over-the-counter products before. Professional whitening through your dentist tends to deliver much more significant results than these products.
Learn About Your Cosmetic Options at Dreem Dentistry
Are you confident in the appearance of your smile? You deserve to have a smile that you love! Simple cosmetic treatments can go a long way toward giving you that confidence. Learn about your cosmetic options at Dreem Dentistry. During a consultation, our staff can build a cosmetic plan to give you the smile you desire. Schedule an appointment at Dreem Dentistry in Leawood, KS by calling our office at 913-681-5500.