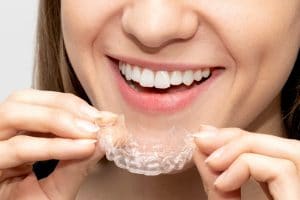 Invisalign® aligners have become a highly popular solution for people who have crooked teeth that need straightening. With a wide range of benefits over more traditional orthodontic braces, Invisalign® clear aligners can help many people enjoy healthier, straighter smiles while simplifying and streamlining the orthodontic treatment process. If your teeth are misaligned and you need orthodontic treatment to straighten them, then learn more about how Invisalign® aligners can benefit you.
The aligners are nearly invisible
Invisalign® aligners are referred to as clear aligners because they're made from a clear, biocompatible acrylic material. This gives the aligners a nearly invisible appearance, which provides one of the most notable benefits of Invisalign® – the fact that your treatment will remain highly discreet. For many older teen and adult patients, the appearance of traditional metal braces can cause some hesitation in choosing orthodontic treatment. However, knowing that their treatment will remain discreet and won't interfere with their smiles' appearance in the meantime can be a great motivator for straightening their crooked teeth as soon as possible.
They're also more comfortable than braces
Clear aligners are made not just to be more discreet, but also to streamline your overall treatment process, and progressing through it requires changing your current set of aligners for the next ones in the series. With traditional orthodontic treatment, the tension necessary to straighten crooked teeth is applied through an arch wire that links the brackets bonded to your teeth. This wire must be periodically tightened to sustain the appropriate level of pressure. However, changing your aligners is a simpler and more comfortable process, making your overall treatment more convenient.
You can take them off for short periods of time
Removing your current aligners is necessary to progress to each new phase of Invisalign® treatment, but it's also the foundation of several other important Invisalign® benefits. For example, with brackets and wires that you can't remove, things like cleaning your teeth and eating your favorite foods can become more complex processes. However, by removing your aligners for a short period of time, you can accomplish every day activities as conveniently as you did before starting orthodontic treatment.
Find out if you can benefit from Invisalign®
Invisalign® clear aligners are highly effective at straightening crooked teeth, and can do so in a much more convenient and discreet manner than traditional braces. To learn more, schedule an appointment with us by calling Dreem Dentistry in Leawood, KS, today at 913-681-5500.