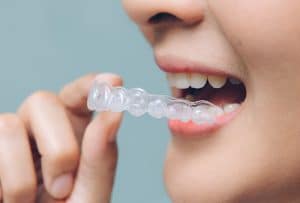 Throughout your lifetime, caring for your smile can mean many different things besides routine checkup and cleaning appointments. For instance, if you develop a cavity, then you'll have to treat it as soon as possible to preserve your oral health. Likewise, if your teeth aren't aligned properly, you'll need to correct their alignment with appropriate orthodontic treatment. While some patients may hesitate at the thought of having to wear braces to correct their smiles, many are surprised to learn that they may not have to. With Invisalign® clear aligners, you may be able to successfully straighten your teeth in a much more comfortable and discreet manner than you expect.
Hardly anyone can see the clear aligners
Invisalign® aligners are known as clear aligners because they're virtually invisible when placed over your teeth. This is thanks to the clear, biocompatible acrylic that the aligners are crafted from, as well as the highly precise, custom design of the aligners themselves. When in place, your clear aligners won't obstruct the appearance of your natural teeth, and their comfortable, stable design ensures they won't move when you smile or speak. If you're worried about how orthodontic treatment will make your smile look, then their discreet appearance can be one of the more significant advantages of Invisalign® clear aligners.
They don't make hygiene more difficult
The appearance of orthodontic braces is a concern for some patients, but there are other concerns that can affect anyone with braces, even if they aren't concerned about their smile's appearance. For example, the brackets of conventional braces must be bonded to your teeth semi-permanently, allowing the arch wires to gradually shift your crooked teeth into straighter positions. Because of this, cleaning your teeth every day can be more challenging. To successfully clean away plaque and food particles from between your braces and teeth, you may require additional hygiene tools, such as an interdental cleaner. By contrast, Invisalign® aligners aren't bonded to your teeth, and therefore, can be temporarily removed before you brush and floss your teeth.
They work for a variety of orthodontic needs
Invisalign® aligners are designed to be more discreet and convenient than traditional braces, but that doesn't make them any less effective. The advanced digital design of the aligners helps ensure that your treatment can effectively address your specific tooth misalignment. Even if your teeth seem severely out of alignment, the right Invisalign® aligners may be able to effectively straighten them, improving your oral health, bite function, and more.
Learn more about treatment with Invisalign®
For many patients with crooked teeth, Invisalign® clear aligners can provide a more discreet and comfortable alternative to conventional orthodontic braces. To learn more, schedule an appointment with us by calling Dreem Dentistry in Leawood, KS, today at 913-681-5500. We also serve patients who live in Overland Park and all surrounding communities.