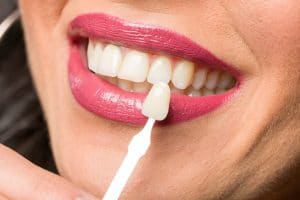 Let us all admit it: Smiles are important. A good one goes a long way in helping with self-confidence. It is what people usually notice first about you, so if you are not happy with your smile, it may cause you to lose confidence. And for centuries, there was very little people could do about them. Stains, chipped or cracked teeth…people lived with these things. But today, we have the ways and means to address them through cosmetic dentistry. This is not something that is just good for appearances, though. Treating issues like the ones just mentioned can help with your overall oral health, as well. Your Leawood, KS, dentist offers several cosmetic options to help you achieve the smile you want. Let us take an overview of some of them.
Teeth-Whitening
We will start with one of the most common cosmetic treatments available. For patients who elect to have their teeth whitened, we offer two options. If you choose to have it done in your Leawood, KS, dentist's office, we will apply a bleaching agent to your teeth and stimulate it with a special light. This bleaching agent breaks up the stains on your teeth, allowing for your natural teeth color to come through. If you want to do it on your own schedule, we offer customized whitening trays that fit over your teeth that you can take home with you. This process usually takes longer but is just as effective as an office treatment.
Porcelain Veneers
These are thin shells that are placed over your teeth. They are custom designed to match your teeth's shade and color. A good thing about porcelain veneers is that they do not require a lot of preparation. Only minimal sculpting of your enamel is needed in order to fit them to your teeth. 
Invisalign® Aligners
If you are wanting to straighten your teeth, then Invisalign may be a good option for you to consider. The acrylic aligners are clear, BPA-free, and more comfortable to wear than traditional braces. You can take them on and off throughout the day when you are eating or cleaning your teeth. They are personalized by using advanced digital technology.
Tooth Jewelry – Twinkles®
Looking to put a little dazzle on a tooth? We can help with Twinkles. These gold-encased crystals bond to a tooth's surface and can be safely and quickly removed without leaving any traces on the tooth. 
Schedule An Appointment With Us Today
We can help you gain the smile you want through cosmetic dental options. To learn more, schedule an appointment with us by calling Dreem Dentistry in Leawood, KS, today at 913-681-5500. We also serve patients who live in Overland Park and all surrounding communities.