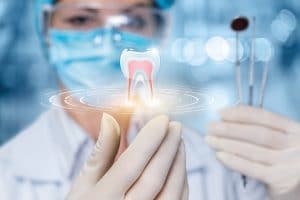 Technology influences a lot of procedures in the dental world today. It helps dentists be more precise in their treatments, evaluations, and preventive care. Services like cosmetic and restorative dentistry benefit from it, too. We can use advanced tools, for example, to view oral structures and build molds with specific details. Using digital imaging and other technologies, your Leawood, KS, dentist can provide you the best in care that will make your visit with us a comfortable and efficient experience. Here a few of the different tools we use at the office.
Digital X-rays
Digital x-rays are a common procedure in today's dentistry. They are taken at minimum once a year so that we can keep your dental records accurate and up to date. Taking them digitally is more comfortable, convenient, and faster. More importantly, they are safer. For example, less than 90 percent of radiation is produced using them when compared to traditional x-rays. Patients in all age groups can benefit from having them taken, and they are available almost instantly. They are just one part of how we help you maintain good oral health.
3D Cone Beam Imaging
3D Cone Beam Imaging is another important technology we employ for several procedures. It offers multiple advantages, the best being its enhanced precision. How it works is an x-ray beam that is shaped like a cone takes approximately 600 pictures of your oral structures from different angles. They are then assembled into a 3D image. With this technology, we can build a precise, digital mold of your mouth. No more messy mold material! Not every patient will need 3D imaging, and it is not a substitution for digital x-rays. By having a clear picture of your teeth, we can provide more accurate care for treatment. 
Intraoral Camera
Along with x-rays and 3D imaging, we visually inspect your teeth and gums for any issues. Sometimes, though, things are hard to see with a naked eye. That is where a digital intraoral camera comes into play. It allows us to look in areas that are hard to see or a bit impossible to reach with standard tools. It is a tiny camera attached to a small, moveable wand, allowing access to every portion of your mouth. Using it provides us a better chance as catching concerns quickly, like tooth decay or gum disease that isn't visible during a routine exam.
Advance Your Smile With Us Today 
Our expert experience, along with our use of advanced digital technology, will help you maintain good oral health and a beautiful smile. To learn more, schedule an appointment with us by calling Dreem Dentistry in Leawood, KS, today at 913-681-5500. We also serve patients who live in Overland Park and all surrounding communities.