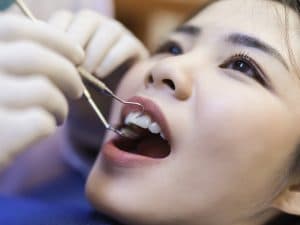 Good hygiene is second-nature to most of us, and has been for a significant portion of our lives. However, there are several important tenets of good hygiene that people can easily forget, such as the importance of visiting your dentist on a regular basis for preventive checkups and cleanings. In addition to keeping your teeth clean at home every day, preventing common dental issues also requires professional care and attention on a regular basis. If you skip an appointment or wait too long until your next one, you may expose your smile and oral health to more risks than you realize.
Why checkups and cleanings have to be consistent
The point of cleaning your teeth is to remove the buildup of oral bacteria (plaque) that clings to them constantly throughout the day. This plaque is the basis of chronic issues such as tooth decay, halitosis (chronic bad breath), gum disease, and more. Consistently good hygiene helps you control this buildup, and consistent visits to your dentist ensure that plaque's calcified form, tartar, doesn't increase the risks to your smile. It doesn't take long for plaque to calcify into tartar, nor for the harmful oral bacteria it harbors to lead to more serious concerns.
What to do between your routine visits
The best way to reduce your risks of such concerns between your routine visits is to limit the amount of plaque that's allowed to calcify in the meantime. That means consistently brushing your teeth at least twice every day and flossing at least once, especially along your gum line. It also means refraining from snacking too frequently throughout the day, which can give oral bacteria fuel to produce harmful substances that attack your teeth and gums. During each visit, your dentist can assess the results of your hygiene routine and offer personalized advice for improving it, if necessary.
In case a problem develops in the meantime
Keeping your checkup and cleaning appointments consistent is the best way to prevent oral health problems from developing, and also the best way to prevent a problem that has developed from causing severe damage. During each visit, your dentist will also perform a thorough examination to inspect your tooth structure, gum tissues, oral structures, and more. If she detects signs of trouble, your dentist can recommend an appropriate treatment to resolve it as soon as possible.
Schedule your next checkup and cleaning
If it's been a while since your last dental checkup and cleaning, then schedule an appointment with us by calling Dreem Dentistry in Leawood, KS, today at 913-681-5500. We also serve patients who live in Overland Park and all surrounding communities.