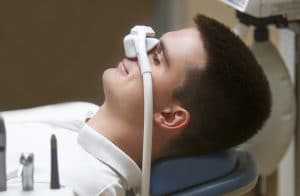 Visiting the dentist makes a lot of people nervous. There are tools they are unfamiliar with, terms they may never had heard, treatments that sound like they are from a science fiction book. We understand the anxiety that surrounds a checkup. Because of this, your Leawood, KS, dentist offers ways to help you relax through sedation dentistry. These options are available so that you will be comfortable during your exam.
The Gas That Makes You Giggle
Of the safest and most used sedation mentions is nitrous oxide. You may have heard it called "laughing gas." That is because it causes some people to giggle while they are on it. For patients who elect to use it, we administer it via a mask that you wear over your nose while you inhale it. You can exhale through your mouth. While nitrous oxide is a mild sedation, it is potent, and patients can experience deep relaxation and possible sleep. The gas does not last long in your system. You should be able to drive yourself back home or to work after your exam.
You May Need Something A Bit Stronger
Some patients may feel higher levels of anxiety. For those who do, we offer an oral sedation option. Medication will be prescribed for this method. You will take it in either pill or liquid form a few hours before your appointment begins. This will give your body time to digest it so that it is fully working by the time you visit the dentist. Its effects take longer to leave your body, and you may feel sleepy or "out of it." Taking an oral sedation will require you to have someone drive you home after your treatment.
Local Anesthesia
To alleviate pain and to help ensure a more comfortable procedure, we may use local anesthesia here at our Leawood, KS, office. A topical application will be used to numb a specific area in your mouth before the anesthesia is applied. We often use this when filling cavities, preparing a tooth for a crown, or treating gum disease.
Maintain Good Habits
Remember, brushing and flossing every day will help you maintain good oral health. You should be using toothpaste with fluoride and floss each night. Along with these preventative measures, you should regularly visit your dentist. Doing so helps us catch any issues that may arise and to stay on top of any new occurrences so that you can keep having a healthy smile.
Contact Us To Learn More
If going to the dentist makes you nervous, we can help you be more relaxed with sedation. To learn more, schedule an appointment with us by calling Dreem Dentistry in Leawood, KS, today at 913-681-5500. We also serve patients who live in Overland Park and all surrounding communities.