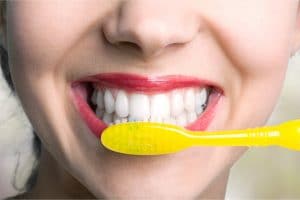 So, you have made it through the first month of the year. Are you still keeping your resolutions, if you made any? If you never made one or broke the one you had, it is never too late to start a new resolution. In fact, here is one you can begin this month: improving your brushing habits. What is that, you say? Yes, your Leawood, KS, dentist knows you are practicing good oral hygiene by brushing twice a day with a fluoride-based toothpaste. And we know you are flossing, yes? Even these good habits can use some refining so that your teeth are in tip-top shape. Here are a few ways you can step up your brushing game for 2020.
Change Your Brush On A Regular Basis
The beginning of each season is a good time to replace your toothbrush. In fact, the American Dental Association says it should be changed every three to four months. A sign that it is time to change it out is when the bristles look frayed or broken. 
Time Time Time… Is On Your Side, Yes It Is
Forty-five seconds is the average time someone spends brushing his or her teeth. That is way too short. You should be spending at least two minutes brushing your teeth. We recommend setting a timer so that you know exactly how long you have been brushing. Or maybe listen to a tune. The Rolling Stones' version of "Time Is on My Side" is just under three minutes, a perfect length for cleaning your teeth. 
Your Teeth, And Gums, Deserve A Soft Touch
Brushing harder is not needed to properly clean your teeth. In fact, if you are not gentle and apply too much pressure, you could cause harm to your gums. Consider using a toothbrush with soft bristles or an electric toothbrush to help you maintain a softer brushing style. 
Let Your Brush Air Dry
After you are done brushing, store your toothbrush in an upright position out in the open. This will help prevent germs from growing on it, compared to if it was stored away in an enclosed space or container.
Work On Your Technique
Just like an athlete or musician has to practice to be the best, you also have to practice so that you can be the best at brushing. A good technique begins with placing the brush at a 45-degree angle to the gums and then moving it carefully back and forth in short movements. Then continue by brushing your teeth's outer, inner, and chewing surfaces. Finish by cleaning the inside of your front teeth by tilting the toothbrush vertically and brush up and down.  
Schedule An Appointment With Us Today
We can help you get on the road to good oral hygiene habits. To learn more, schedule an appointment with us by calling Dreem Dentistry in Leawood, KS, today at 913-681-5500. We also serve patients who live in Overland Park and all surrounding communities.