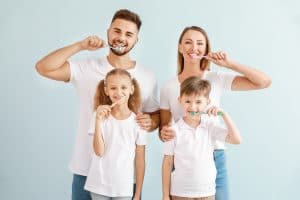 Caring for your teeth and oral health does not have to be a solo project. In fact, others can help you maintain good habits, and you can help them keep up their good ones. With families, this means everyone can be a part of the fun process of caring for their teeth. Your Leawood, KS, dentist offers several family dentistry treatments and services that will keep all, young and old, smiling. Let us look at some of the things we provide.
Regular Checkups and Cleanings
When you hear people say you should visit your dentist twice a year, this is what they are talking about. Checkups and cleanings are the most common treatments dentists offer. During a checkup, we will thoroughly examine your teeth and gums, looking for any signs of decay or gum disease. When we clean your teeth, we use professional equipment that gently removes plaque and tartar that can lead to tooth decay. And why should you come at least twice a year? Because oral bacteria build up over time, and if left untreated, could lead to other oral health issues that require more rigorous treatments.   
Children's Dentistry
Children require professional dental care just as much as adults do. We welcome children of all ages at our Leawood, KS, office, and preventive treatment is our main focus with them. Children three and older should be regularly visiting a dentist, but you can start bringing them as soon as their first tooth appears. That way we can ensure the teeth and gums are developing correctly and address any issues early. 
Tooth Extraction
While removing a tooth is not something a patient usually wants to have done, it sometimes has to happen due to infection or if a tooth is fractured. If this is a procedure that we determine you need, we offer treatments for it that will help you regain your smile and restore your oral health.
Dental Fillings
Cavities are a common occurrence in patients of all ages. In fact, most patients will get one at least one in their lives. Catching them early is imperative to protecting your teeth, and we can address the issue with dental fillings. They will help protect the tooth and its structure from further bacteria and decay. If left untreated, the decay may reach the nerve. You will definitely feel that. At that point, a root canal treatment may be needed. As with all health concerns, earlier detection is better. That is why you and your family should make regular appointments with us.  
Schedule An Appointment With Us Today! 
Your family's oral health is important, and we are here to help you maintain it. To learn more, schedule an appointment with us by calling Dreem Dentistry in Leawood, KS, today at 913-681-5500. We also serve patients who live in Overland Park and all surrounding communities.