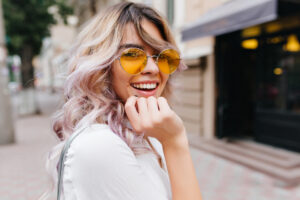 When you have multiple issues with your smile, including cosmetic and restorative concerns, you may need more than one procedure. With a full smile rehabilitation, our team can combine multiple treatments to transform the health, beauty, and function of your smile. In today's blog, your Leawood, KS, dentist talks about our smile makeovers!
When You Need a Full Smile Makeover
We recommend this option for people with multiple concerns with the health, function, and beauty of their smile. Sometimes, this is due to people not seeing the dentist for many years, allowing minor issues to grow in severity. For example, a cavity becomes an infection that causes tooth loss. If this is due to anxiety, don't worry, we won't minimize your anxiety. We want to provide anesthesia and sedation to ensure those with dental phobias can undergo the treatment needed to enjoy optimal oral health and a beautiful smile. Every smile is unique, and our makeovers are based on detailed digital images and measurements taken of your smile, with treatment and plans customized for your unique smile. This approach offers the most lifelike and long-lasting results!
Starting with a Consultation
During your consultation, we will talk to you about your smile and then concerns you want to see addressed. We then use digital x-rays and intraoral cameras to assess the cause and extent of your cosmetic imperfections. We then create the plan to address these concerns and offer optimal results.
Cosmetic Dentistry
Our team offers a full range of cosmetic treatments to address multiple concerns with your smile. Professional teeth whitening can remove stains and brighten teeth without causing major sensitivity. With bonding and contouring, we can add composite resin to the teeth or gently sand away structure to improve the overall beauty of your teeth. With porcelain veneers, we use thin restoration to instantly change the shape and color of the teeth, addressing several concerns at once. In fact, sometimes veneers alone provide a smile makeover! We can also use gum contouring to address gummy smiles, or clear plastic aligners to correct misalignment, so you can enjoy a straighter smile without metal braces.
Restorative Dentistry
What if you have restorative concerns, such as tooth decay, damaged teeth, or infections? Our dental restorations are not only strong and durable, but they can be shaded to ensure cosmetic results that blend with your smile. Our fillings are made from composite resin instead of metal, and take only one visit to place. Our ceramic crowns can address serious concerns with decay or damage, and can complete root canal procedures for those with infected teeth. We can restore the health, function, and beauty of your teeth, sometimes in as little as one to two visits.
Dental Prosthetics
What if you have missing teeth? Tooth loss can not only cause embarrassing gaps, but also lead to weakened jaws and additional missing teeth with time, until you have an aged appearance and issues eating your favorite foods or speaking clearly. But with a prosthetic, we can address missing teeth and rebuild your smile. For minor tooth loss, we could secure a custom bridge made from lifelike materials. We also have removable full and partial dentures to address severe cases of tooth loss. With dental implants, we can insert posts directly into the jaw that act as new roots, which reveres the breakdown in the jaw that usually follows tooth loss. This renewed stability in your smile allows the implants to stay in place for years to come. We can also use them to offer fixed dentures that never slip or require removal, and act as a new smile.
If you have any questions about how we plan and conduct a full mouth makeover, then context our team today to get street. Even if your smile has serious issues that remain untreated for years, we can still help you regain a stunning and full smile with our full mouth rehabilitation. We want you to smile with confidence for years to come, and we can get started now so you can see results before the holiday season is in full swing and you hit the road visiting friends or family.
Do You Need a Full Mouth Rehabilitation?
Our team wants to help you enjoy a smile that looks great and offer better oral health too, which is why we want to makeover your smile with full mouth rehabilitation. Call Dreem Dentistry in Leawood, KS by calling (913)681-5500 if you need help with a full mouth rehabilitation. We also serve patients who live in Overland Park, South KC, South OP, Martin City, MO, and all surrounding communities.