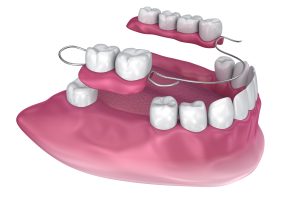 With time, it is only natural that your teeth begin to experience discoloration and lack of vibrancy, as they are constantly enduring a number of factors. These can range anywhere from the types of food and beverages you consume, the frequency at which you visit your dental office, and even the quality at which you manage your smile at home. What's more, even greater concerns such as decay and infection can arise if proper treatment isn't sought, often resulting in tooth loss. In today's blog, your Leawood, KS dentist will take a look at varying degrees of structural loss, providing insight on whether you may need partial or even full dentures.
Degree of Missing Teeth
Like many dental concerns, tooth loss can often be addressed at multiple stages with varying degrees of treatment. For instance, a single structure may be easily addressed with a dental implant, whereas a few consecutive structures may be treated with a custom porcelain bridge. Bear in mind, however, that acting sooner rather than later is crucial, as once you lose one tooth to decay or infection, your chances of losing even more increase drastically. That being said, making sure to come in and seek the help you need is even more imperative, as it could come down to only having to address one tooth or several.
Am I a Candidate?
Oftentimes, structural loss is the result of severe decay or infection, both of which are caused by harmful bacteria wreaking havoc on your smile. These bacteria thrive in warm, hard-to-reach areas of the mouth, and actively work to break down your healthy teeth. If left unmanaged, your condition will get worse and worse until extraction is the only viable option to preserve your oral health. For a number of patients, however, a great amount of loss is endured before they are able to seek help. Fortunately, our team can provide just the solution you need to address this concern, regardless of the degree of loss.
A Solution That Works for You
If your condition warrants total tooth removal or you have already endured the loss of all teeth, then our team can provide custom-made full dentures to restore your smile and aid you in regular processes such as biting, chewing, eating, and enunciating. For others, however, only partial loss may be the case, riddling your smile with sections of missing teeth. In cases such as the latter, our team can create partial dentures that are designed to be placed over the existing teeth and fill the gaps with artificial ones. For more information on this process or to schedule your appointment with our team, reach out to us today.
Schedule Your Appointment
Contact Dreem Dentistry in Leawood, KS by calling 913-681-5500 to learn more about your restorative dental options, or to schedule your appointment today.