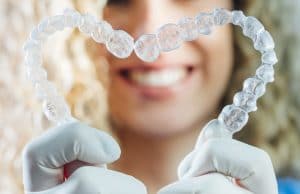 For many people, straightening crooked teeth is an important part of maintaining and preserving their good oral health in the long run. When it isn't addressed, tooth misalignment can cause a variety of significant problems with your teeth and oral health, and straightening them is the only way to avoid these issues. Fortunately, many people with crooked teeth can benefit from Invisalign®, which can often simplify orthodontic treatment by utilizing a series of clear aligners instead of traditional metal braces.
No one has to notice your treatment
Some older teens and adults with crooked teeth may be concerned with how traditional braces may change their smiles' appearance. This concern may cause some patients to procrastinate in receiving the treatment they need, and can allow their tooth misalignment to grow increasingly worse. Because of this, one of the more important benefits of Invisalign® is the fact that the clear aligners are virtually undetectable when placed over your teeth. This makes your overall treatment much more discreet, and your aligners nearly invisible to everyone else. This can give patients the confidence to straighten their crooked teeth sooner and prevent their tooth misalignment from worsening.
It allows you to keep your teeth clean easier
When you straighten your crooked teeth with Invisalign® instead of braces, the treatment process involves utilizing a series of clear aligners that are specially designed to guide your teeth into straighter positions. In addition to the aligners being clear and nearly invisible, they can also make your treatment process more efficient and convenient overall. For example, you can temporarily remove your aligners each day before performing tasks like brushing and flossing your teeth. Without braces to work around, you can more easily and successfully keep your teeth clean of harmful plaque, reducing your risks of developing additional concerns like tooth decay, gum disease, or more.
You can continue eating the same foods
By making things like dental hygiene easier each day, Invisalign® clear aligners can provide significant benefits to your long-term oral health as well as your orthodontic treatment process. There are also several ways in which treatment with Invisalign® can improve other aspects of your daily life, such as allowing you to continue to eat the same foods you're used to. With traditional braces bonded to your teeth, you may have to adjust your diet to avoid foods that may potentially damage your braces. However, with Invisalign®, you can remove your aligners temporarily before eating so you can avoid having to accommodate them.
Learn if Invisalign® is right for you
With Invisalign® clear aligners, you may be able to simplify the process of straightening your crooked teeth and improving your oral health. To learn more, schedule an appointment with us by calling Dreem Dentistry in Leawood, KS, today at 913-681-5500. We also serve patients who live in Overland Park and all surrounding communities.