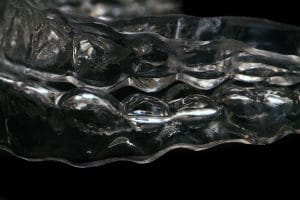 The appearance of crooked teeth can sometimes be significant, but for some people, it's barely noticeable. Because of this, many people may not consider their tooth misalignment something serious to worry about, or something that could substantially impact their long-term oral health. However, tooth misalignment can become a serious problem when it's ignored, which is why many patients benefit greatly from the use of more discreet and comfortable Invisalign® clear aligners. The biggest difference between Invisalign® and traditional braces is their more discreet appearance, though other benefits include the more convenient and comfortable way in which they enhance your orthodontic treatment.
The aligners don't affect your smile's appearance
Invisalign® clear aligners are made from BPA-free acrylic, which is clear and nearly invisible when placed over your teeth. This gives your aligners the ability to remain undetectable while they work to gently straighten your crooked teeth. For many older teen and adult patients who need to straighten crooked teeth, but worry about how traditional braces may make their smiles look, the clear appearance of Invisalign® aligners can be the most significant benefit. However, the ability to straighten crooked teeth discreetly also provides several other important advantages to your treatment process and your long-term oral health.
Your orthodontic treatment is more convenient
Conventional metal braces, which consist of brackets and wires, can be conspicuous when placed on your teeth, but for many people who wear them, the appearance of braces isn't the biggest challenge to wearing them. Because the brackets are semi-bonded to your teeth, you may also have to take special consideration in daily activities like brushing and flossing your teeth. For example, specialized interdental cleaners are often necessary to effectively clean between brackets, wires, and teeth. Yet, with Invisalign®, you can temporarily remove your aligners before your hygiene routine, allowing you unobstructed access to clean all of the surfaces of your teeth more conveniently.
Wearing aligners doesn't require major changes
Cleaning your teeth should be a consistent activity, which is why keeping your hygiene routine simple is such an important benefit to Invisalign® clear aligners. Yet, in addition to your hygiene routine, traditional braces can also impact your ability to comfortably eat certain kinds of foods, making it necessary to adjust your diet throughout the course of your orthodontic treatment. However, because you can temporarily remove clear aligners, Invisalign® can allow you to straighten crooked teeth without having to make significant changes to your diet.
Learn if you can benefit from Invisalign®
In addition to their more discreet appearance, Invisalign® aligners can improve your orthodontic treatment in several important ways. To learn more, schedule an appointment with us by calling Dreem Dentistry in Leawood, KS, today at 913-681-5500. We also serve patients who live in Overland Park and all surrounding communities.