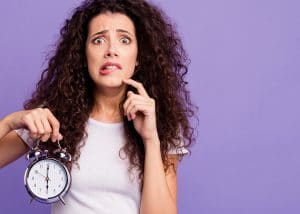 Crooked teeth seem like an obvious problem. While it can occur to varying degrees, a misalignment in your teeth can typically be noticeable whenever you show off your smile. However, the noticeable impact of your teeth being misaligned isn't the only problem associated with crooked teeth. There are several more, many of which can lead to increasingly more severe complications with your teeth and oral health the longer your teeth remain crooked.
1. Your bite becomes imbalanced
The alignment of your teeth is important to the appearance of your smile, but it's also an essential factor in how your bite functions. Particularly, the way your teeth are aligned determines how your bite distributes pressure among them. When they're aligned properly, your bite can function optimally and your teeth can easily withstand the repeated pressures of biting and chewing. However, a misalignment means that your teeth are not aligned to meet each other evenly when you bite down, which can disrupt the balance of your bite overall and lead to problems with other areas of your oral health.
2. Your jaw joints become strained
The joints on either side of your jaw control its movement, and are known as temporomandibular joints (TMJs). These joints and your jaw muscles provide the force when you bite and chew, as well as control your jaw's path of movement. An imbalance in your bite, such as the misalignment of your teeth, can make it difficult or impossible for both of your TMJs to fully open and close at the same time, placing one or both of them under immense amounts of strain. Over time, this strain can damage the joints and potentially lead to a jaw dysfunction known as TMJ disorder.
3. Your teeth become worn and damaged
When your teeth are crooked and your jaw joints have to compensate for it, the pressure and strain can cause your bite to malfunction. For example, crooked teeth and the development of TMJ disorder can both be commonly tied to bruxism, or the chronic grinding of your teeth. The constant grinding, coupled with the disturbance in your bite's overall balance, can cause the chewing surfaces of your teeth to become excessively worn down or damaged. If this occurs, the damage can further disrupt your bite's function as well as put the tooth at a significantly higher risk of being lost, or needing to be extracted.
Learn more straightening crooked teeth
Straightening crooked teeth with clear aligners does more for your smile than just improve its appearance. It can also help you avoid several serious problems that could arise from the misalignment of your teeth. To learn more, schedule an appointment with us by calling Dreem Dentistry in Leawood, KS, today at 913-681-5500. We also serve patients who live in Overland Park and all surrounding communities.