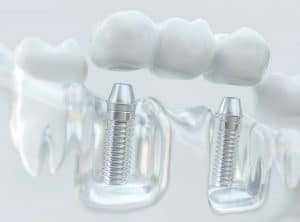 People who experience tooth loss and choose dental implants to rebuild their smiles make the choice for different reasons. For example, if you've recently lost one or more teeth, then choosing dental implants can help you preserve more of your smile by addressing the consequences. If you've dealt with tooth loss for a while, you might choose implants to provide a more comfortable and stable restoration. However, the fact that dental implants are so successful is often similar for everyone. Thanks to their biocompatible nature and ability to replace your lost teeth roots, dental implants can do more to restore and preserve your smile than conventional restorations.
More precise goals in restoring your smile
Restoring your smile after you've experienced tooth loss can require different things, depending on the specifics of your tooth loss. This includes how long it's been since you've lost your natural tooth structure, how many teeth you've lost, and more. It also includes addressing the consequences of that loss, particularly the loss of your natural teeth roots within your jawbone structure. With a dental implant restoration, we can more precisely restore your smile by reestablishing all of your tooth's natural structure, including the root that provides the support it needs to bite, chew, and function properly.
Mimicking more of your natural tooth structure
The ability to mimic your tooth structures unique, healthy appearance isn't a new ability in restorative dentistry. Many of today's custom restorations are designed using advanced technology to ensure optimal, precise measurements and lifelike materials (like dental porcelain or zirconia), modern restorations can be customized to closely mimic healthy tooth structure. However, mimicking the root of your tooth is only capable with a dental implant post, which is made from biocompatible titanium and placed within your jawbone structure. This gives the implant post the ability to more closely mimic the healthy tooth structure that you've lost and, as a result, more successfully restore your healthy smile.
Making your restoration more stable and secure
Your replacement tooth or teeth are only successful if they can reestablish your bite's function as well as your smile's appearance. When you bite and chew, your teeth have to distribute that pressure among themselves, and your restoration must be able to support this function. Conventional dental bridges and dentures can restore much of that function, but are still limited due to their lack of root-like support. Dental implants provide this, allowing your replacement teeth to function more securely and rest more comfortably on your dental ridge.
Learn why dental implants are so successful
Dental implants offer more successful results when it comes to rebuilding your smile, thanks to their more precise method of replacing your lost teeth. To learn more, schedule an appointment with us by calling Dreem Dentistry in Leawood, KS, today at 913-681-5500. We also serve patients who live in Overland Park and all surrounding communities.