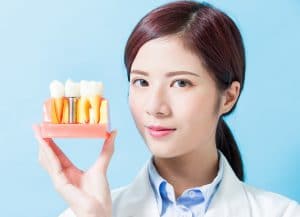 Things can change dramatically when you experience tooth loss, but with a conventional dental restoration, you can address most of those changes. Unfortunately, some of the impacts of tooth loss aren't things that you immediately notice, or that can be addressed with a traditional dental bridge or denture. That's because they result from the loss of your tooth's root, which rested within your jawbone beneath your gums. With the help of dental implants, however, you can more successfully restore your smile by replacing the roots of your lost teeth and mitigating the impacts that it could have on the rest of your oral health.
It's biocompatible nature
A dental implant post is designed specifically to replace a lost tooth root, which means it must be placed within your jawbone structure where the root used to rest. To successfully replace the tooth root, a dental implant post is crafted from biocompatible material, such as titanium, which your jawbone structure will heal to as though it were a genuine part of your oral anatomy. Once the dental implant post or posts are securely in place and the bone structure around them has healed, they can serve as highly lifelike replacements for your teeth roots, and offer a similar level of support for your custom-designed replacement tooth or teeth.
It's ability to restore your bite function
Your bite's function involves many different aspects of your oral health, including the roots of your teeth as well as your jawbone, joints, and muscles. When you support your restoration on dental implants, you can restore a part of this function that conventional restorations can't – the stimulation of your jawbone structure. Teeth roots are meant to help your jawbone maintain its structural integrity by stimulating it every time you bite and chew. This function cannot be regained with a conventional restoration that lacks root-like support. Yet, by replacing your lost teeth roots, you can reestablish an appropriate level of stimulation and help prevent your jawbone from growing weaker and negatively impacting your bite function in the future.
It's versatility in supporting restorations
Because dental implant posts are placed individually into your jawbone structure, they can be utilized to suit any size of dental restoration. For example, a single implant can support a dental crown to replace a single lost tooth or a small bridge to replace two adjacent teeth. Or, multiple implant posts can be strategically placed to support a larger denture to replace several or all of the teeth on your dental ridge.
Learn if dental implants will work for you
Dental implants are designed to work for most patients who've experienced tooth loss by mimicking their healthy, natural teeth roots. To learn more, schedule an appointment with us by calling Dreem Dentistry in Leawood, KS, today at 913-681-5500. We also serve patients who live in Overland Park and all surrounding communities.