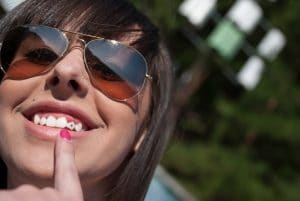 There are many cosmetic dental procedures that people elect to have in order to help them have confidence in their smile. These include things such as teeth whitening, porcelain veneers,  Invisalign® Aligners, and gum contouring. And with most of these treatments, your Leawood, KS, dentist can help you. There is another treatment, though, that is just as popular as those mentioned, and it is a service we can also provide. It is called Twinkles® Tooth Jewelry. If you are looking to give your smile an extra sparkle, we can help. Let us learn more about them in today's blog post. 
What Are Twinkles And How Are They Attached?
These tiny gems are made from either 24k gold or 18k white gold. Precious stones or diamonds are set in them, and they are bonded to the front surface of a tooth using an adhesive and dental composite, similar to how an orthodontic bracket is attached to the enamel of a tooth. No glue is used. The back of each setting is curved to follow a tooth's shape, and the procedure is usually quick. Once the adhesive is applied, the gem is placed and then cured with a light for 60 seconds to harden the composite. You may feel the jewelry at first, but over time you will get used to it.  
Will It Stay Long On My Tooth And Will It Damage It?
The jewelry will stay on your tooth until you decide to remove it. Your Leawood, KS, dentist can quickly and safely take it off without leaving any traces or blemishes on your tooth when you are ready to remove it. We do not drill the tooth to place the jewelry on it. 
Can I Still Brush And Floss With One On My Tooth?
You can still keep up with your brushing twice a day with a fluoride-based toothpaste while wearing Twinkles Tooth Jewelry. You can also continue flossing at night before going to bed. Biting and chewing will not be impacted, either. And if you are concerned about bacteria getting between the jewelry and the tooth, have no worries. The area under the gem will be sealed, making it difficult for bacteria to hide behind it. However, if you notice anything unusual happening on the tooth that has a jewelry piece attached to it, please schedule an appointment with us as soon as possible so that we can address the issue.    
Schedule An Appointment With Us 
Tooth jewelry is a cosmetic dentistry option we provide that will add a little bling to your smile. To learn more, schedule an appointment with us by calling Dreem Dentistry in Leawood, KS, today at 913-681-5500. We also serve patients who live in Overland Park and all surrounding communities.