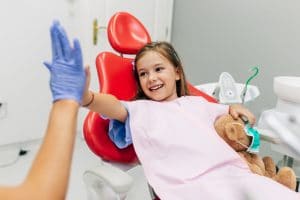 Taking care of one's teeth is a lifelong practice, and the earlier one begins, the better. That is why your Leawood, KS, dentist is glad to see patients of all ages. We offer personalized checkups and the kind of dental care children need to set them up for good oral health. We make sure they are relaxed, which will ensure positive experiences. This, in turn, will lead them to be more open to appointments in the future, as well as encourage them to brush and floss more consistently.
What To Expect During Your Child's Dental Checkup
Adults and children have similar, routine checkups. When you bring your child to us for an appointment, we will use a mirror and a tool to inspect their teeth and gums. We are looking for instances of decay, inflammation, and weakness. We may take x-rays so that we can have a baseline about their oral health for future exams. Their teeth will be cleaned during the checkup. This may include fluoride treatment, and we may recommend that they get dental sealants. These are barriers applied to the back teeth to protect the enamel from bacteria that may create cavities. If no issues are discovered, we will suggest you make another appointment with your Leawood, KS, dentist in six months for a regular checkup and cleaning. 
Things To Do Before Seeing The Dentist
There are some children who are scared about seeing the dentist, and we understand that. There are tools they have never seen, machines that make weird noises, and terms they have never heard before. One way to help lessen any anxiety they may be feeling is to prepare them for the checkup by explaining what to expect. Reading an age-appropriate book about the dentist from the library is a good option for doing this. By reading the book together, you can answer any questions they may have, which may help them feel less nervous about the appointment. 
Things To Do At Home
Taking care of your children's teeth at home is a good practice, in addition to regular checkups and cleanings with us. Ensure that your child is brushing his or her teeth twice a day for at least two minutes each time with a toothpaste that includes fluoride in it and that they are flossing before getting into bed. Also, we suggest choosing foods and drinks that have low sugar content in them, as this will help prevent cavities.
Contact Us To Schedule Your Child's Dental Appointment
Your child's oral health is very important to us, and we would love to be their dentist. To learn more, schedule an appointment with us by calling Dreem Dentistry in Leawood, KS, today at 913-681-5500. We also serve patients who live in Overland Park and all surrounding communities.