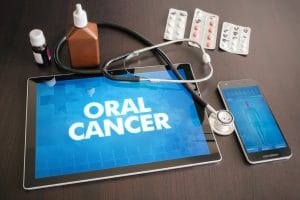 Your oral health is important. Catching cavities, tooth decay, and gum disease early will often save you from future procedures that may be more intensive, and expensive. You can also keep your health up to date with regular dental care at home with brushing and flossing. All these things will help you maintain a beautiful smile. However, there are some concerns that are less common but could be a serious risk to your health if not addressed quickly. One of the procedures your Leawood, KS, dentist offers that you may want to take advantage of is oral cancer screening.  
What Is Oral Cancer?
Each year, almost 53,000 Americans are diagnosed with oral or oropharyngeal cancer. It is divided into two kinds: those happening in the oral cavity, such as the lips, teeth, and gums, and those that occur in the oropharynx, which is the throat's middle area, including the tonsils. It is often discovered when it has metastasized to a different location in the body, such as the neck's lymph nodes. It can frequently grow without showing any outward symptoms or producing pain. This is why it is important to detect it early. 
What Will Happen During The Screening?
When you visit us at our Leawood, KS, dentist office for a regular exam and cleaning, we inspect every part of your mouth for any signs of irregularity. Along with cleaning plaque and tartar, we do a comprehensive check for oral cancer. This involves looking for things like lesions, sores, ulcers, or wounds that do not heal. We can use advanced dental technology, also, to increase the chances of discovering it at an early stage. These tools include digital x-rays and intraoral cameras. Catching it early gives us a better chance of treating it successfully.   
Are There Signs I Should Look For?
We recommend performing a monthly at-home screening, using a mirror to closely look at all oral tissues and teeth. If you experience any of the following signs or symptoms, and they do not go away after a couple of weeks, please make an appointment to see us.  
White or red patches in your mouth

Your mouth or lips are tender, numb, or in pain

A lump or rough spot in your oral tissue

You are having a hard time chewing, swallowing, or speaking

Your bite has changed when closing your mouth 
Contact Us For An Oral Cancer Screening 
Your overall health is important, and it starts with your mouth. For patients concerned about oral cancer, rates for survival are increased when detected early. To learn more, schedule an appointment with us by calling Dreem Dentistry in Leawood, KS, today at 913-681-5500. We also serve patients who live in Overland Park and all surrounding communities.