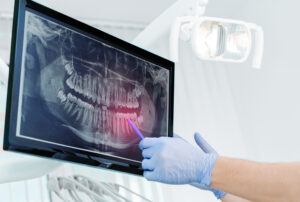 When you need to have a serious oral health concern addressed, we want to offer care with precision and accuracy. Which means from your first visit we will employ some advanced digital systems. In today's blog, your Leawood, KS, dentist talks about our advanced technologies, such as digital x-rays!
Digital X-Rays
Digital x-rays use 90% less radiation than traditional methods, and the images don't need to be developed in harsh chemicals, which not only saves you time in the office, but is better for the environment too. These images are available instantly chairside, so we can walk you through the diagnosis and limit how long you're in the office. The images are very detailed and high quality, so we can make a diagnosis with better precision and accuracy. We can also send these images instantly to other offices or specialists as needed. These are also safe for most patients, both you and old.
Cone Beam 3D Imaging
With Cone Beam technology, we can create 3D images of your entire smile quickly and comfortably, which aid in the diagnosis of your oral health concerns, and allow us to better plan treatment. These images can be used to design oral appliances and restorations, even prosthetics! Which means no more biting down on metal molds filled with a sticky and poor-tasting material. We can also create your restorations and appliances with better precision, so they fit comfortably and offer optimal treatment. Whether you need a crown, a sleep appliance, or even a dental implant, this technology can aid in the process and ensure optimal results!
Intraoral Cameras
To obtain a clearer look at the surfaces of your teeth and gums, so we can better diagnose issues like tooth decay, gum disease, TMJ disorder, and bruxism (teeth grinding), we will use intraoral camera technology. This is a tiny digital camera at the end of a thin wand, which allows us to take images from multiple angles and with incredible detail, quickly and comfortably. We can see what may be invisible to the naked eye, so we can diagnose issues in their earliest stages and provide treatment in a quicker fashion.
If you have any questions about the advanced digital technology we use in our office, or if you would like to schedule a visit with our team, then reach out to our office today! Everyone deserves optimal treatment and a healthy smile.
Do You Need to Schedule a Visit?
We would like to help you enjoy optimal oral health, and that begins with an accurate diagnosis with advanced digital systems. Call Dreem Dentistry in Leawood, KS by calling (913)681-5500 if you need to start your treatment journey. We also serve patients who live in Overland Park, South KC, South OP, Martin City, MO, and all surrounding communities.