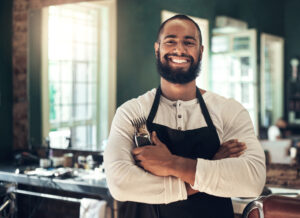 We all know the importance of maintaining your smile through preventive care, but sometimes, you need a little more help to keep your oral health at a high level. Enamel damage can lead to serious health concerns, and this can happen for a variety of reasons. Tooth decay is a highly prevalent condition in this country, so be sure to brush twice each day and floss daily. It is also helpful to stick to your schedule of dental checkups, as your semiannual cleanings and examinations work to keep you safe from cavities and gum disease. Even with your schedule of checkups, there are still times when you need help in repairing your smile.
With our team of talented restorative dental experts in Leawood, KS, you can take steps to renew your smile. Our office offers a full array of restorative services, so we can help you to find your way back to a positive dental path. If you have broken a tooth, talk to us about a beautiful new dental crown, which is a cap that covers your existing material. Reach out to your dentist soon after you notice the damage, as an infection can start to develop in the fleshy interior of the tooth. As this happens, you might start to experience pain or discomfort within the affected tooth, requiring a root canal treatment to correct the situation. We also offer treatment for those with missing teeth, including dental bridges and biocompatible dental implants. When your smile needs repair, schedule an appointment for an examination, and we can help you to renew your smile!
Our Dental Fillings Help to Hide Your Smile Repair
Even with your dedication to your brushing and flossing, cavities can still develop over time. When this happens, you need a dental filling to plug this hole, and some traditional methods can leave you with a noticeable change. Leaving this situation alone can lead to more serious concerns, so it is important to take action, but do you really want everyone else to notice?
With our composite resin fillings, you can have a smile repair that blends in with your natural enamel. Talk to our team about improving the quality of your smile through restoration with a composite resin filling!
Broken A Tooth? A Dental Crown Can Help You Save Your Tooth
If you have cracked or broken one of your natural teeth, take this opportunity to meet with your dentist. Your enamel plays a vital role in preventing the spread of bacteria into the vulnerable interior that lies beneath, and while you wait, problems can progress. This situation can lead to a dangerous internal tooth infection, so make an appointment to talk to your dentist about your options.
A dental crown helps you to protect your broken or cracked tooth from further deterioration. With our gorgeous crowns, you can renew your smile with a solution that blends in with the rest of your natural teeth. At your appointment, be sure to ask about your options, and learn how to better care for your smile into the future.
When Infection Sets In, A Root Canal Treatment Work To End That Toothache
A broken or decayed tooth is vulnerable to developing a bacterial infection. This situation can be dangerous not only to your ability to keep the affected tooth, but this infection can even spread into the bone of your jaw or into your bloodstream. If you have started to notice pain or discomfort within one of your teeth, make an appointment with your dentist to discuss your next steps in treatment.
When this happens, a root canal treatment can help you to end that nasty toothache and save your tooth. This procedure starts with the removal of the fleshy interior known as pulp, and with it, the nerve that has been giving you trouble. After this part of your root canal treatment, your dentist will seal the connections between your tooth and your jaw, preventing future reinfection. Since this process requires extensive drilling, you will need a dental crown to help keep your tooth functional and beautiful moving forward.
Schedule An Appointment With Dreem Dentistry To Learn More!
If you have damaged your tooth through decay or injury, take some time to meet with a trusted name in dentistry. Talk to our team about ways to restore your smile, including the placement of a new dental crown or filling that matches with your natural enamel. To learn more about repairing your smile, give us a call at Dreem Dentistry in Leawood, KS by calling )913)681-5500 today!