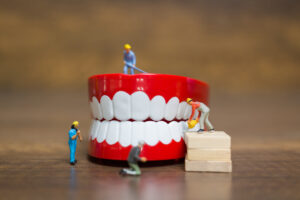 When a tooth is broken or the outside structure is worn down, this could lead to major trouble with your smile. Our team can offer treatment for injuries, so you avoid complications like cavities or even tooth loss. In today's blog, your Leawood, KS, dentist talks about how we treat broken or worn-down teeth.
How A Tooth Is Worn Down
Our teeth are very strong, and the outer enamel is the hardest substance in the human body. But that doesn't mean your teeth don't develop injuries. A tooth could be damaged during full contact sports, an accident, biting down on a hard piece of food, and other situations. Teeth grinding could wear down outer structure too, so teeth appear shorter than normal and may develop cracks and chips too. When a tooth is damaged, this could expose the sensitive inner dentin to harmful bacteria, which then allows tooth decay and dental infection to develop. Don't ignore this damage, seek treatment right away. Otherwise, your aching tooth could become an infected one, and eventually, a lost one.
Repairing Your Broken Teeth
Our team will carefully examine your tooth to decide which treatment option is best. For minor cracks and chips, we could use composite resin as part of a dental bonding procedure to repair damage in only one visit. This is the same durable and lifelike material we use as part of our dental fillings. If the injury is more severe, then our team could create and place a dental crown, which covers the entire tooth structure and addresses more severe injuries and teeth grinding-related damage. This preserves the bite balance and chewing function of your smile, and protects the tooth from further injuries or decay.
Preventing Dental Damage
You can help prevent damage by seeking treatment for concerns like teeth grinding, so we can limit the risk of further cracks and chips. If you play full contact sports, then consider a custom mouthguard from our team, which provides a greater level of protection than traditional boil-and-bite options. Taking good care of your teeth to avoid tooth decay that weakens tooth structure is helpful too. When a tooth is injured, you can take an over-the-counter pain reliever, and use cloth to stem any bleeding. A cold compress to the side of your face could prevent facial swelling, and you can bring any recovered pieces of your tooth with you too.
If you have any questions about how we treat worn-down or damaged teeth, then contact our team today to learn more.
Talk To Your Leawood, KS Dentist About Treating Worn Down Teeth
Contact Dreem Dentistry in Leawood, KS by calling 913-681-5500 to learn more about repairing damaged teeth! We're ready to find a lifelike solution to broken or worn-down teeth!