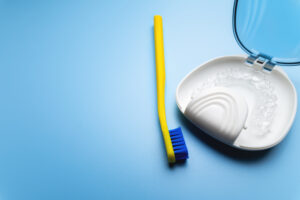 Do you have dental misalignment? Not only does an uneven smile impact your appearance, but this could harm your oral health too! Instead of relying solely on metal braces, our team has a cosmetic treatment option. In today's blog, your Leawood, KS, dentist talks about the Invisalign® treatment process.
The Factors Behind Your Misalignment
What causes your misalignment? For some, this could be due to issues regarding the growth and development of your jaw, and the eruption of your teeth. For others, thumb sucking at a young age, premature tooth loss, or even injury could be a factor. Regardless of the cause, poor alignment is linked to an increased risk of complications, ranging from cavities and gum disease to TMD and bruxism (teeth grinding). Which is why treatment is so important, this can help correct not only the beauty of your smile, but the health and function as well. If you're concerned about the impact of braces then you may be interested in a cosmetic approach with the Invisalign® system.
How We Create Custom Orthodontic Aligners
There is no one-size-fits-all approach to treating your misalignment. Each set of Invisalign® aligners is custom-made for your smile based on the detailed digital images we take of your smile from several angles, ensuring a proper fit and treatment with precision and accuracy. In a lab setting, experts will use the images and impressions to create a series of aligners from a BPA-free plastic material, one that is completely clear in appearance. Once they're ready, we can begin the treatment process and start you on your path to an even and healthy smile, one you can't wait to show off to the world!
The Process of Shifting the Teeth
With Invisalign®, you wear a set of plastic aligners for about 20 to 22 hours a day. You can remove them before you eat, and prior to brushing and flossing, as well as special occasions, but make sure you wear them for the amount of time our team recommends. After two weeks, you will begin wearing the next set in the series and will repeat this process for about a year to see optimal results. Invisalign® offers a comfortable and barely noticeable option for addressing your misalignment.
If you have any questions about how we correct uneven smiles and boost overall oral health, then contact our team today to learn more. We want to help you smile with confidence, and enjoy optimal oral health.
Talk To Your Leawood, KS Dentist About the Invisalign® Aligners
Contact Dreem Dentistry in Leawood, KS by calling 913-681-5500 to learn more about our clear and comfortable cosmetic orthodontics! An even smile is possible with a cosmetic approach, and we look forward to helping you!