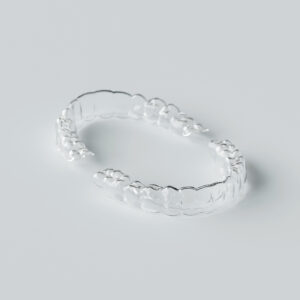 When you have crooked and crowded teeth, or if they overlap one another, this could impact smile beauty and leave your smile vulnerable to poor oral health. But that doesn't mean you must rely solely on metal braces to correct your smile. Instead, your Leawood, KS, dentist could correct uneven smiles with Invisalign® aligners.
The Benefits of Treating Your Misalignment
As we touched on above, misalignment means that particles from the foods and drinks we consume could become trapped between teeth difficult to remove when we brush and floss, so the risk of cavities and gum disease elevates. The strain on your jaw joints due to bite imbalance could also make your smile vulnerable to TMJ disorder and bruxism (teeth grinding). You could also feel uncomfortable with your appearance, which impacts social interactions and quality of life. By correcting your misalignment, you help improve your overall oral health and also your appearance too. We can help with our cosmetic Invisalign® aligners.
Creating Your Custom Cosmetic Orthodontics
Each Invisalign® aligner is actually custom-made for your smile, there is no one-size-fits-all approach. To begin, our team will take detailed digital images of your smile from multiple angles, and use them to create a detailed 3D impression. In a special lab, experts will use these impressions to design and fabricate your plastic aligners, which will be clear in appearance and fit comfortably. You then begin wearing them and start your journey to an even and healthy smile. These will offer smile correction with precision and accuracy, and stay practically invisible the entire time.
The Treatment Process
With Invisalign®, you will wear a set for about 20 to 22 hours per day. The exact time will depend upon our recommendations. You continue this for about two weeks, at which point you begin wearing the next set in the series. The process is repeated for about a year for adults, or up to 18 months to teens. The exact time will again depend on our recommendations, and whether you wore your aligners as we prescribed.
You can remove them before you eat to avoid complications with mealtime, and being removable also means brushing and flossing is much simpler, no working around metal orthodontics after all. You can also take out your Invisalign® aligners before special occasions, such as graduations, first fates, or job interviews. If you have any questions about how we correct misalignment with our clear and comfortable aligners then contact our team today to learn more. We're ready to help you obtain an even smile!
Ready to Correct Your Uneven Smile?
Contact Dreem Dentistry in Leawood, KS by calling 913-681-5500 to learn more about how our team can shift your smile with clear and comfortable plastic orthodontics.