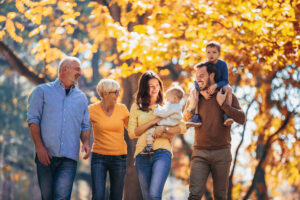 Our team wants to help your entire family maintain strong and healthy smiles. After all, you should always feel confident when showing off your smile! In today's blog, your Leawood, KS, dentist talks about our approach to family dentistry, with care to help kids and adults alike enjoy optimal oral health.
Checkups and Cleanings
Family dentistry starts with a simple checkup and cleaning visit. A checkup is crucial for everyone of all ages, as we have a chance to assess your oral health with advanced digital imaging, so we can offer a diagnosis with precision and accuracy and treat common concerns we uncover, such as tooth decay and gum disease. We also screen for oral cancer, and make sure baby teeth are erupting and falling out on time for kids, limiting the risk of misalignment.
In the same visit, we also take time to clean the teeth. A dental cleaning is a procedure that does what brushing and flossing alone cannot: remove all plaque and tartar buildup. Doing so helps limit the risk of bad breath, stained teeth, and even tooth decay and gum disease. But daily brushing and flossing does limit how much buildup can accumulate, so keep it up!
Oral Cancer Screenings
For adults, we will screen for oral cancer at least once a year. According to the Oral Cancer Foundation, over 53,000 people will be diagnosed with the disease, and of that number, half will succumb to it in just five years. A late diagnosis is the main cause of the high mortality rate, so an early diagnosis once a year is essential. Also let us know if you experience warning signs like sores, lesions, sore throat, and changes to your voice that last more than two weeks.
Scaling and Root Planing
What if we see the presence of gingivitis or the early stages of gum disease, and your gums feel sore, look red, and bleed easily? At this stage, you need more than a traditional cleaning. You need a deep cleaning, or a scaling and root planing, in which we use ultrasonic scaling technology and a manual pick to thoroughly remove all plaque and tartar from both the teeth and their roots. This reverse gingivitis and manages gum disease to prevent the late stages linked to tooth loss and worsening discomfort. Routine cleanings every three to four months may be needed to keep the disease in check and safeguard your smile's stability.
Oral Appliance Therapy
Oral appliance therapy means we use a comfortable and noninvasive oral appliance to treat a host of serious oral health concerns. The device is custom-made and fitted for your smile, so it fits comfortably and is worn as you rest. The device then repositions the jaw or movies it forward to manage common concerns. For example, if you have TMJ disorder brought on by strained jaw joints, we can ease the strain to prevent painful symptoms and ensure you can open and close your mouth properly. Our team also shifts the jaw to address bruxism, and the device acts as a barrier between the upper and lower teeth to fight dental damage. If you have sleep apnea, the device keeps airways open at night so you breathe without interruption and feel rested and relaxed the next day.
Fillings and Root Canals
What if you have tooth decay or dental infection? For most cases of tooth decay, our team can place a composite resin filling in one visit, one that looks natural and halts the decay to stop aches and protect your smile. If you have advanced decay or an infection, a root canal can be employed to remove these tissues from inside your tooth. We then add a unique filling material and cap your tooth with a dental crown. These help every smile in your family stay strong and healthy.
Children's Dentistry
Along with checkups and cleanings, our approach to family dentistry includes unique treatments to protect little smiles from tooth decay. For example, our approach to family dentistry can include fluoride treatments to strengthen outer enamel during each checkup, or a dental sealant to coat the hard-to-reach back teeth to prevent decay from developing there, keeping smiles strong and healthy.
The Extraction Process
Sometimes, when you see us for family dentistry, we may not be able to save a tooth with a restoration, or you could have wisdom teeth poised to erupt. With extraction, we remove them before they threaten the rest of your smile! This is done quickly and comfortably. If you have any questions about family dentistry, then contact our team today to learn more.
Do You Need Family Dentistry?
Contact Dreem Dentistry in Leawood, KS by calling 913-681-5500 to learn more about how our team can help patients of all ages maintain optimal oral health.