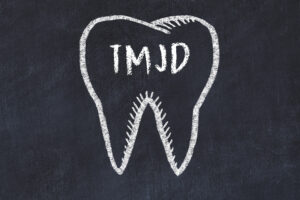 When your jaw joints undergo excessive strain, this could lead to a common issue known as TMJ disorder, or TMD. The disorder impacts millions of smiles, and is linked to serious complications with the ability to open and close the mouth. In today's blog, your Leawood, KS, dentist talks about how we treat TMD.
The Causes of TMD
The temporomandibular joints connect our jaw and skull, and they control the actions necessary to eat and speak. When these joints become strained, this could lead to TMD and a host of uncomfortable symptoms. Possible causes include untreated bruxism, or chronic teeth grinding. Missing teeth, injury to the face or jaw, or complications with the growth of the jaw and the eruption of the teeth could be a potential cause as well. Bite imbalance is a factor too. As part of your treatment, we will assess the cause and severity of your TMJ disorder.
Common Warning Signs
People with TMJ disorder may experience jaw pain or a popping or clicking in the jaw too. Headaches and migraines are common, as are aches in the neck and shoulders. If you also grind your teeth, this could wear down or damage tooth structure, so tooth sensitivity and toothaches, as well as visible changes to your teeth, could occur as well. When one or more of these potential symptoms arise, then please let us know right away. With advanced imaging technology, we will conduct a detailed examination and diagnosis, so we can choose the most appropriate treatment option.
The Long-Term Complications
Without treatment, this could impact how fully you can open and close your mouth, which leads to worsening discomfort. If you grind your teeth as well, this could mean a higher risk of tooth decay and dental infection.
Oral Appliance Therapy
Treatment options vary. For some, we could correct misalignment to ease bite imbalance, or replace missing teeth with a lifelike prosthetic. Our team could use bonding and contouring, or crowns, to improve overall bite balance as well. However, the most common solution is an oral appliance. The device will be custom-made based on the detailed impressions we create of your smile. The resulting appliance will look and fit like a mouthguard. When worn at night, this repositions the smile to ease strain and stress, so you avoid symptoms. The oral appliance also helps with teeth grinding, placing a barrier between the upper and lower set of teeth to prevent further damage to them.
If you have any questions, then contact our team today to learn more.
Ready to Improve Your Smile's Balance?
Contact Dreem Dentistry in Leawood, KS by calling 913-681-5500 to learn more about treating issues like TMD and avoiding harmful jaw joint strain.