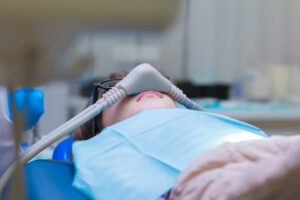 Do you have concerns about seeing the dentist? For many, anxiety and fear of the dentist can stand between people and a healthy smile. Which is why our team can offer calming solutions to help even those with serious fears or special needs undergo dental care. In today's blog, your Leawood, KS, dentist talks about sedation dentistry.
When People Need a Calming Solution
We offer dental sedation to help people in a number of different situations. For example, if you're undergoing a more extensive treatment than a filling placement, such as a tooth extraction or the placement of dental implants. This is also helpful for kids and adults with special needs that make undergoing even routine care a difficult process. If you have severe dental anxiety, your fears could keep you from undergoing the care necessary to enjoy optimal oral health. Sedation, along with our experienced team, can help you feel calm and relaxed, and able to receive the care you need.
Choosing the Right Option
As we'll discuss further on, our team will employ one of three different options. But which one will we choose for you or your family member? We will take multiple factors into account, such as age, weight, medical and dental history, and dental anxiety. Our team could also choose an option passed on a patient's unique special needs. Regardless of the version we select, we will have a trained anesthesiologist on hand to monitor you and adjust sedation levels as needed. Every smile is unique, which is why every treatment plan is personalized as well. Now, let's look at the three different options our team will provide.
Nitrous Oxide
Also known as laughing gas, this is a mild form that is safe for kids and adults alike, and is administered through a mask over the nose. You inhale a gas that helps you reach a calm and relaxed state instantly, often with little to no memory of the procedure. You will still be conscious and able to respond to the dentin as needed. The effects wear off quickly, so most people can return to work or school or even drive themselves home.
Oral Sedation
While nitrous oxide is given throughout your procedure, oral sedation is taken before the procedure begins. You will take this in a pill or liquid form, and we may recommend avoiding food or drink in the eight hours before we administer it. You will reach a much deeper state of clam. Still conscious but with no memory of the procedure. The effects will take time to wear off, so you need to arrange for a friend or a family member to bring you home afterward. Our team will send any necessary instructions for aftercare, or prescriptions, with you and the person bringing you home afterward. While your person waits, we have free Wi-Fi and other amenities for them to enjoy.
IV Sedation
The deepest form of relaxation is administered intravenously. You receive your calming agent directly into the bloodstream, and you will feel very relaxed. You won't fall asleep, and you can still respond to the dentist, but you will have no memory of the procedure in most cases. This is very helpful for this with severe anxiety or other special circumstances. However, we don't recommend this if you have an allergy to sedatives, or if you have glaucoma, sleep apnea, or prior health issues like heart attack. The effects again will take time to wear off completely, and you will need to have someone on hand to take you home afterward. Again, we will send them with any safety recommendations or prescriptions you will need as the treated area heals. We may recommend a follow up visit as well.
If you have any questions about our approach to sedation dentistry, or if you're ready to take on your poor oral health, then contact our team today to learn more. We're ready to help you obtain the treatment necessary to smile with confidence. Remember, you're never too late to improve the health, function, and beauty of your smile. We're ready to help and to ensure your experience is a relaxing and comfortable one, even if you have serious dental anxiety.
Do You Need Sedation Dentistry?
Contact Dreem Dentistry in Leawood, KS by calling 913-681-5500 to learn more about how our team can help even anxious patients stay calm and relaxed. Our team can start care with a checkup and cleaning, we also have a comprehensive array of general, cosmetic, restorations, and prosthetic dental solutions. A stunning and confident smile is in your future!