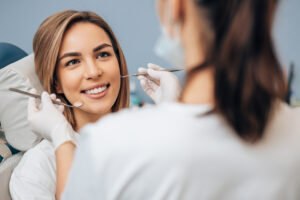 We get it; many people find going to the dentist stressful and are uncomfortable throughout their visit. While we always strive to provide our patients with a relaxing environment that is soothing, some individuals remain tense. This is completely natural, and we encourage you to let us know about any trepidation you may have. This way, we can better tailor our services to meet your needs. One of the ways that we can help increase your comfort is by providing you with dental sedation. In today's blog, your Leawood, KS dentist discusses the sedation options we offer and the situations in which each is warranted. 
Nitrous Oxide
Nitrous oxide, which is also known as laughing gas, is one of the most common and mild sedation options available. It is incredibly versatile, making it appropriate for many less-intrusive procedures. This gas is mixed with oxygen, and you breathe it in your nose via a small mask. It can help alleviate anxiety and discomfort, but you will remain fully conscious and able to communicate with us throughout your procedure. A notable perk of nitrous oxide is that once you stop breathing it in, the effects will wear off within minutes, allowing you to go about the rest of your day with a clear head and a refreshed smile. 
Oral Sedation
For an option a little stronger than laughing gas, we often suggest oral sedation. It can be taken as either a pill or a liquid and is administered before the procedure begins. It is a great way to alleviate anxiety and mitigate discomfort. Because it is stronger, we typically use it for more intrusive procedures. Moreover, because it lasts longer, you will need someone to drive you to and home from your appointment. For stronger effects, we may also recommend taking an oral sedative the night before your procedure so that you can rest properly before your visit in addition to during. 
IV Sedation
IV sedation is the strongest option we provide to patients. It goes directly into your bloodstream, and it takes effect rapidly. We use this for our most intensive procedures; while you will stay conscious, you will be extremely relaxed. You will still be able to respond to questions and speak, but you will be pretty out of it. We will closely monitor you the entire time you are receiving this sedation. Like oral sedation, you will need someone to drive you home afterward because you will not be able to operate your car or other heavy machinery. 
Contact Us To Learn More About Dental Sedation 
Contact Dreem Dentistry in Leawood, KS by calling 913-681-5500 to schedule your next appointment with our team and learn more about the sedation options we offer. We want you to be fully comfortable when you are in our office!